There is Lake Ontario water in places many people have never seen in their lifetime. It's over docks and seawalls, on waterfront lawns, inside cottages and businesses and it's washing away ecologically sensitive sand dunes.
States of emergency have been declared, National Guard members have been mobilized, lawsuits have been threatened and elected officials have vowed this can never happen again.
But why isn't anyone — and we're looking at you International Joint Commission and International Lake Ontario-St. Lawrence River Board — doing anything about it?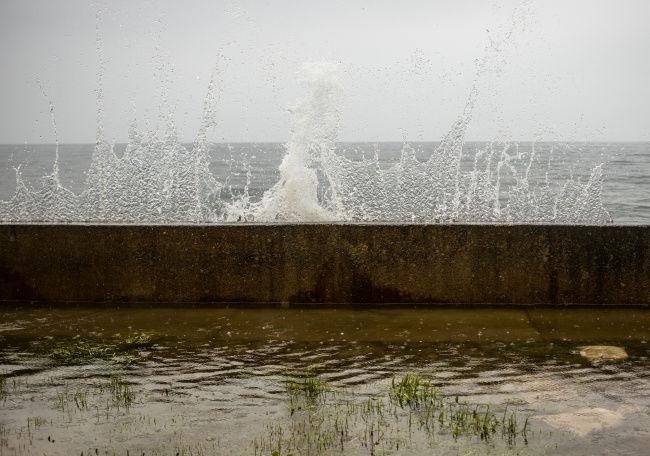 The lake hit its highest level ever recorded — 249.02 feet — on June 2 and crept up to 249.08 feet on June 6, from where it has barely budged since. The previous record had come in late May 2017, just months after the IJC adopted its Plan 2014, the basic plan it follows to regulate Lake Ontario and St. Lawrence River levels. Lake and river levels are regulated through releases of water at the Robert Moses-Robert H. Saunders Power Dam in Massena and Cornwall, Ontario. The river board determines outflows following Plan 2014 criterion.
Flooding in 2017 prompted cries to repeal or replace Plan 2014, which took 16 years and $20 million to develop. The plan replaced Plan 1958-D, which was in use since 1963, and was designed to provide for more natural water level fluctuations while reducing damage caused by extreme high or low levels, while also restoring wetlands and benefitting recreational boating, two areas not considered in Plan 1958-D.
"The bottom line is, there is no plan, nor will there ever be a plan that can prevent the kind of besieging that has gone on in '17; it's going on in '19 and has occurred ever since the Seaway project was developed, (including) in the '70s and '90s," said Thomas E. Brown, a river board member from Cape Vincent who has been involved in lake regulation since the mid-1980s. "This is not new and we'll see it again. About every 20 years, Mother Nature says I'm really going to dump on you as far as precipitation and annual snow run-off."
The river board and Great Lakes Adaptive Management Committee, a subagency of the IJC tasked with monitoring and assessing the effectiveness of its water management plans, both conducted after-action reviews of the 2017 flooding and concluded that record rainfall across the Lake Ontario and St. Lawrence River basin, combined with high inflows from unregulated Lake Erie, caused the lake to reach a then-record level of 248.95 feet in late May 2017.
This year, similar conditions were in place, but the real problems began with the Ottawa River freshet. As late as mid-April, the lake's level was about eight inches above its historical average for that time of year. According to the Lake Ontario-St.Lawrence River Board, a heavy snow pack along the Ottawa River basin melted a little later than usual and major rains fell throughout the basin in late April and into May, leading to record flows from the river into the lower St. Lawrence River.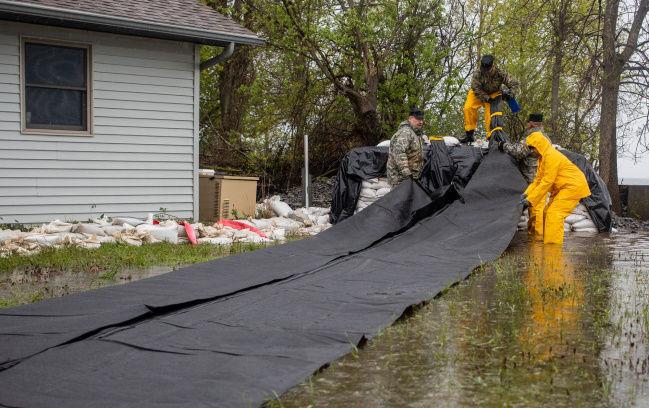 This excess water caused Lake St. Louis, which is located where the Ottawa and St. Lawrence rivers meet, to exceed flood stage, flooding large areas near Montreal and elsewhere in Quebec. To mitigate the effects of this flooding, the river board reduced outflows through the Moses-Saunders dam, backing water up on Lake Ontario.
"We can let more water out there, but when the whole system is deluged with the amount of water we have right now, you can't do that because you'd flood Montreal out," Mr. Brown said. "The bottom line is, when you're dealing with so much water in the Great Lakes system that during unprecedented wet years when all the lakes are at maximum, or above high levels, it's not practical to think that one outlet — and all that's coming down Lake Ontario and the St. Lawrence River — can handle all that water. That's what the whole thing comes down to."
The fact that all of the Great Lakes were swollen and Lake Erie was approaching record-high levels in the fall served as notice that all of that water was headed to Lake Ontario, as about 85 percent of Lake Ontario's water comes from Lake Erie through the Niagara River over Niagara Falls. That led many to believe that Lake Ontario outflows should have been increased sooner to drain as much water off the lake as possible throughout the fall and winter.
Data going back to 1901, however, shows that Lake Ontario outflows during this past winter's months of December, January and February were the fourth-highest ever recorded for those months. Outflows are typically reduced in the winter to help create a stable ice cover to prevent ice jams that could impede water flow, possibly leading to higher Lake Ontario levels.
Mr. Brown said outflows throughout 2018 were higher under Plan 2014 than they would have been under Plan 1958-D. As late as the beginning of November, levels were hovering at or slightly below historical levels. The levels started to rise in December, which corresponded with the river board's decision to increase outflows. Mr. Brown said the best time to move excess water out of the system is during January and February, when shipping is shut down, but regulators must also try to create a stable ice cover to avoid the ice jams. This winter, as in 2017, there were a series of freezes and thaws that led to loosely formed frazil ice conditions and outflows needed to be regulated to help form more stable ice.
"The old plan wouldn't have moved as much water over the summer and winter of 2018. It would have been worse if we hadn't been letting that water out," Mr. Brown said. "We might have been able to get a little more water out, but we wouldn't have been able to get it low enough to avoid flooding."
While Ottawa River flows have slowed, Lake St. Louis levels remain near flood stage. The river board has increased sustained outflows to a record 10,400-cubic-meters-per-second, or enough water to fill 34,342 bathtubs every second, doing so at the risk of impacting commercial shipping.
Bruce Burrows, president of the Chamber of Marine Commerce, Ottawa, a binational organization focused on commercial maritime interests, said the organization can abide by the 10,400-cubic-meters-per-second outflows, but that anything higher will further jeopardize shipping, which accounted for $13 billion in direct business revenue in the United States and Canada in 2017. If outflows remain at 10,400-cubic-meters-per-second for 10 weeks, the chamber projects that between $230 million and $290 million will be lost in revenue.
"The economy is pretty concerned about that impact," Mr. Burrows said.
The revenue losses result from a loss of time as ships have to travel at greatly reduced speeds as heavy currents make navigation difficult. Any outflow increase above the record levels would likely bring shipping to a halt for at least some period of time, Mr. Burrows said, resulting in losses that the chamber projects could exceed $1 billion.
"Anything beyond the 10,400 puts us into the territory of risky and dangerous navigation," he said.
Despite some public contention that the high water levels are being created for the benefit of the shipping industry, Mr. Burrows said the opposite is true.
"We are not happy navigating in high conditions," he said. "This is way more water than we need for our draft."
In 1993, another year of high water, the river board experimented with temporary outflows of 10,700-cubic-meters-per-second over a three week period in the late spring, causing commercial navigation to halt two days each week. However, these measures only resulted in a little over an inch of water being removed from Lake Ontario.
Raising outflows also has the counteraction of lowering levels on Lake St. Lawrence, which was created at the time of the dam's construction to serve as an impoundment area, or forebay, behind the dam. Raising outflows too high can create levels on Lake St. Lawrence that are too low for safe navigation and for municipal water intake purposes, The lake has been beset many times since 2017 with extreme low waters.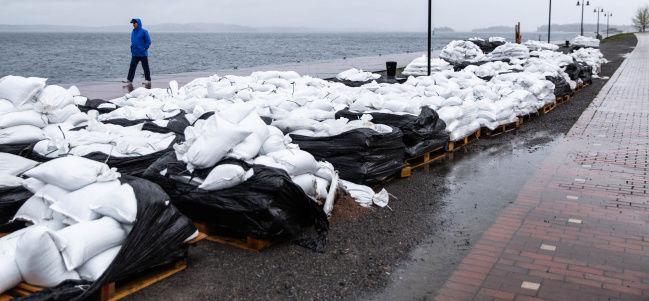 The dam at Massena and Cornwall shoulders some of the public's blame for causing high water levels, leading some frustrated residents to call for the dam's removal and a return to "pre-project" water levels. But prior to the dam's construction, Lake Ontario outflows were limited by the hydraulic capacity of the St. Lawrence River channel, with natural rock sills at the head of the Galop Rapids downstream from Ogdensburg acting as natural impediments to flow.
Removal of the natural impediments during construction of the dam allowed the river to flow at a higher rate than it did naturally. According to the river board's weekly regulation summary for the week ending June 26, the computed pre-project level of the lake would have been 250.20 feet, more than a foot higher than its actual recorded level. The average level for that week, which incorporates measurements since 1918, was 246.26 feet, according to the summary. Prior to 2017, the previous highest recorded levels came in 1952, eight years before regulation began. There were also levels approaching 2019 levels in 1973 and 1993.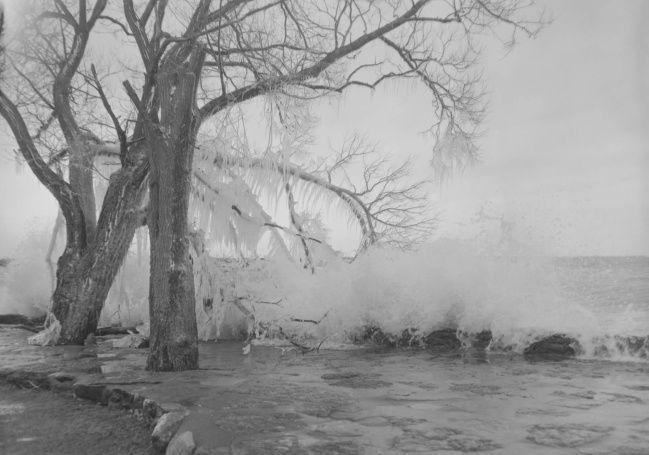 Waters rising beyond their average depth is not an anomaly, nor are water levels sinking below their average low levels. Data from institutions like the U.S. Army Corps of Engineers illustrate that each of the lakes exhibited periods of significant high and low levels at different times in the past century, as fluctuation in water elevation naturally occurs in them.
Several shoreline property owners, however, claim the inundation they have experienced in previous years pales in comparison to what they experienced in 2017 and this year. The lake and river in both years exhibited record breaking maximum heights. Some scientists have contended that the natural forces affecting water levels have been exacerbated by climate change.
In a report published in June on The Conversation, a research-driven news source, University of Michigan professors Drew Gronewold and Richard Rood wrote that rising global temperatures cause more rapid fluctuations between high and low water levels in the Great Lakes, as well as more extreme weather events like flooding and drought. Syracuse University professor Charles T. Driscoll concurs with the two Michigan scientists.
"Frankly, I think we're going to see more of this," said Mr. Driscoll, professor of environmental systems and distinguished professor of civil and environmental engineering. "I think it's going to be a part of what folks have to deal with around the lake."
Three meteorological influences primarily affect the amount of water and, therefore, water elevation of the Great Lakes, according the Michigan professors' report: precipitation, runoff from land and tributaries and evaporation.
Mr. Rood, professor of climate and space sciences and engineering, said wet weather that brings additional precipitation and runoff can raise lake levels and cause flooding. This occurred in 2017 and this spring. Dry periods with increased evaporation can cause water levels to drop, said Mr. Gronewold, associate professor of environment and sustainability.
Warm temperatures fuel both precipitation and evaporation by allowing the atmosphere to hold more moisture, which it can absorb from surface water and release as rain or snow, according to the report. Therefore, warm temperatures can either help increase or reduce water levels depending on other meteorological conditions.
Conversely, cold temperatures can reduce evaporation because absorbing water becomes more difficult for the atmosphere. Water levels can then rise due to the lack of water evaporating out of the system, Mr. Gronewold said.
"The factors that contribute to the water budget remain the same; we're just putting more upward, downward pressure, sort of, on them," Mr. Rood said.
Scientists predict temperatures will continue to climb by multiple degrees, which will create more extreme peaks and valleys in water levels and precipitation over the next century.
During a presentation he gave on June 21 in Depauville, Mr. Driscoll said global air temperature has risen by 1.8 degrees Fahrenheit in the past 115 years, and he expects the temperature to continue rising. The mean temperatures in the Northeast could increase from 3.98 to 5.09 degrees Fahrenheit between 2036 and 2065, and even further by 2100.
"What is unique is the rate of change. It's changing at a very, very fast rate that's never occurred before in human history," he said about climate change, "The problem is the rate of change."
While the amount of rain and snowfall may vary, Mr. Driscoll said he predicts the Great Lakes region will experience an overall rise in frequent and intense precipitation over the next several decades. More periods of intense precipitation can lead to more periods of high water levels over time.
Annual precipitation across the Great Lakes has increased by 11 percent since 1900. Mr. Driscoll said frequency in extreme storms has been increasing, with the Northeast receiving more intense rain events than any other part of the country.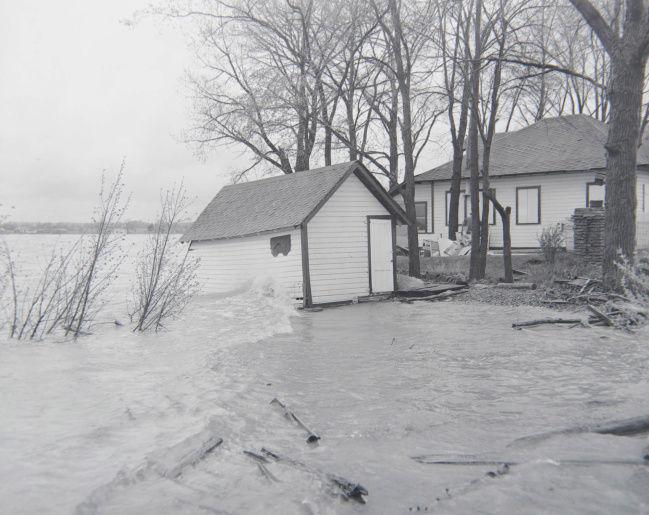 "Overall, we're going to get increases in precipitation, but it's going to be much more erratic," Mr. Driscoll said. "We're going to have very wet years and we're going to have very dry years."
According to the Michigan professors' report, the warming atmosphere has increased the amount of winter and spring precipitation falling across the basin and caused earlier springs, which alters seasonal snowmelt and runoff cycles. In Lake Erie, the effect of runoff from the early snowmelt on record high water levels was compounded by excessive precipitation.
The condensation and solidification of water in the atmosphere releases energy and, therefore, can bring more rain and snowfall, which will raise water levels, or evaporate more water and reduce the size of the lake.
Uncertainty makes predicting specific weather patterns and extreme events difficult, but Mr. Rood said shoreline property owners and other stakeholders near Lake Ontario and the St. Lawrence River can expect greater variation in their water levels. The change between high levels and low levels will occur faster and break more records in the future.
"There is no evidence to suggest in the coming decade, or following two decades, there will be a change in the trend. It's just going to get warmer and warmer," he said. "If I wanted to build resiliency and anticipate what to do, I should look at that scenario that has higher highs, and lower lows."
In a recent piece published by the Journal of Great Lakes Research, Mr. Gronewold and Mr. Rood wrote that viewing regulation as the predominant cause of the high waters was "not realistic." No water control plan could have prevented the inundation, they wrote.
"There's nothing in any regulation plan that could have changed the massive amount of water accumulated on the entire Great Lakes basin," Mr. Gronewold said.
"In 2017, the plan had just gone into place," Mr. Driscoll said. "I don't believe you can blame the plan because it had just been started in a short time just before the flooding. They tried to balance the interests of a whole host of people. It's a very challenging task to please all of those parties."
Gov. Andrew M. Cuomo, a frequent critic of Plan 2014 and the IJC, acknowledged May 30 that the state cannot continue to spend money repairing flood damage as it had following 2017, when $100 million was spent on rebuilding.
"I think intelligence and common sense dictates that we acknowledge the obvious. This is quote/unquote the new normal. One should now expect continued high levels for the lake and don't be surprised if in another two years we're back in the same position," the governor said.
That day, Gov. Cuomo announced the formation of the Lake Ontario Resiliency and Economic Development Commission, a multi-agency task force charged with developing a plan to harden infrastructure along Lake Ontario's waterfront while strengthening the region's local economies, which are heavily dependent on summer tourism. The Empire State Development Corporation will administer $300 million in resiliency funding to local communities, similar to the way it administers the state's Downtown Revitalization Initiative.
"Rather than rebuilding what was, build in a way for the future and do it through a lens of economic development opportunity for the community. Let's build it in a way that will actually increase the economic impact for those communities," Gov. Cuomo said. "The floods are a problem today, but I think we can actually find the silver lining in this storm cloud. I think the silver lining is we will meet the challenge, we will rebuild, and we will rebuild better than ever before."