WATERTOWN — Finding a way to honor the Class of 2020, an Army retiree rode 78.53 miles Wednesday, stopping at local high schools to read lists of submitted names and congratulated seniors.
Curtis Mosely of Watertown said he rides on a regular basis, averaging 80 to 100 miles per week. On his recent rides the owner and head instructor at Behring Jiu Jitsu New York, Evans Mills, was inspired to show his support for the senior class.
"On one ride I saw so many of the yard signs," Mr. Mosely said. "It made me think how different it is for this class who are not having their prom, senior trips and a normal graduation. I decided to do a ride to the local schools in the area to honor the Class of 2020."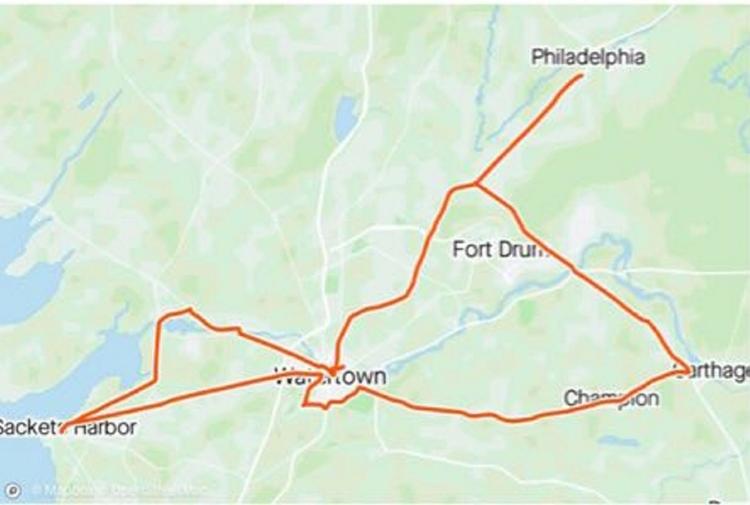 Starting out from Watertown, he rode to area high schools — Indian River in Philadelphia, Carthage, Watertown, Immaculate Heart Central, Sackets Harbor, General Brown in Dexter along with Jefferson Community College in Watertown.
He was accompanied by Andrew Deierlein, 19, of Sackets Harbor.
"He heard about the ride and asked if he could come with me," Mr. Mosely said. "We just met in person today. This is the longest ride he has ever done."
Stopping at each location Mr. Mosely read off names that were sent to him.
"I also had names of other seniors and college graduates from around the states," he said. "I read those names off once I finished the ride at home."
At his stops he wore shirts denoting the school donated for this ride by Winning Promotions and made recordings of his readings. To view videos of Mr. Mosely's appearances, go to wdt.me/CurtisMosely.
Mr. Mosely's tour of schools took 6 hours, 9 minutes.
"I was really happy by the response that I got and the support," he said, noting he had more than 160 names given to him. "It was a great honor and pleasure. I was overwhelmed by the response I got for doing it. It has been amazing, even people showing up at the school to show support."
The cyclist can relate to what the seniors are going through with virtual classrooms. He is a student at Jefferson Community College studying chemical dependency, taking online courses. He said upon his return from his bike ride he learned he had made the President's List with a 4.0 grade point average.
In the future, Mr. Mosely would like to do a similar trip going to Lyme, Clayton, Alexandria Bay and Lafargeville and another to South Jefferson, Sandy Creek and Belleville-Henderson.