SACKETS HARBOR — This past Christmas, before the COVID-19 pandemic hit the United States, Jamie McGuire decided to buy a 3D printer for her two teenage boys, hoping they could share it and it would spark some creativity.
A few weeks ago, that same printer was put to use for a very different purpose. When Mrs. McGuire saw a post on Facebook showing that 3D printers could be used to print ear savers for the masks worn by healthcare workers and other essential personnel, she immediately called up to her sons Evan, 16, and Ryan, 14, to see if this was something they'd be able to do.
"I was impressed by how fast they picked this up and started, to have them download it and be able to print one out within the hour, it was so cool," she said. "Unfortunately, we only have the one printer, so we're limited to how many we can produce, but I'm definitely proud of the boys for not complaining and keeping them coming."
While the two Sackets students are home, they've worked out a system of printing nearly 24/7. One brother prints during the day and the other, a night owl, takes the next shift. When morning comes, they switch out again like a well-oiled machine.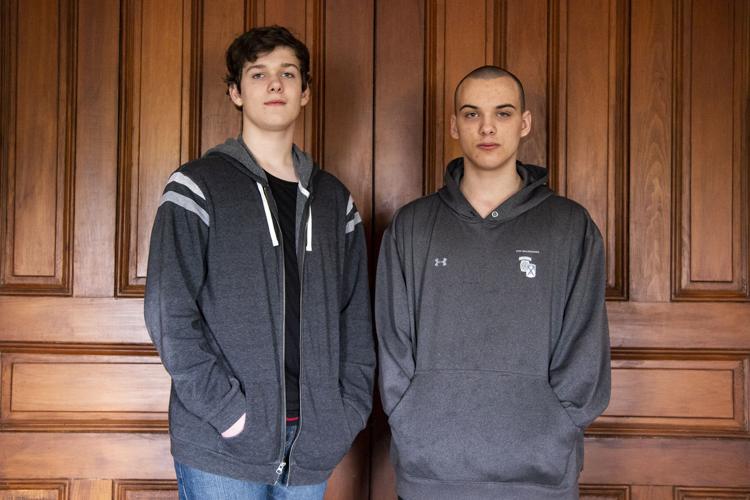 Before they received their Christmas gift, the two didn't really have any experience with 3D printing, so they started off small by using presets to print little models, and, according to Evan, used YouTube tutorials to learn more. He said the open source code used for the ear savers is downloaded from a website called Thingiverse.
The filament for the ear savers hasn't been hard to come by, according to the boys; the family just orders it from Amazon at about $20 to $25 per roll. Since they started, Evan and Ryan have printed around 120 pieces so far, with filament still left on the roll, so anywhere from 150 to 175 could be printed from a single roll.
Of those 120 ear savers, the McGuire family gave a few to CREDO, 70 to the Watertown Fire Department, nine to Watertown Pediatrics, and some to friends and family members who are healthcare workers or essential personnel. A request for 30 more recently came from Hannaford supermarket, and the family also connected with a group the other day that has a channel to Samaritan, where Mrs. McGuire said they are looking for ear savers to ease the strain of constantly wearing their masks.
She said the ear savers tend to fit surgical masks better than homemade ones because they don't pull so tightly.
"We're going to start pumping them out and hopefully get out as many as we can," Mrs. McGuire said. "As long as there's a need, we'll keep printing them."
As the area sales manager for 13 hotels in New York, Mrs. McGuire is considered an essential employee and is out working each day. She said she has always told her boys that their integrity is everything, that how they act when no one is looking defines them. To that end, the boys have been balancing their schoolwork and printing the ear savers at the same time.
According to Ryan, endeavors like this one are important for essential workers to be able to "keep things going and the economy running."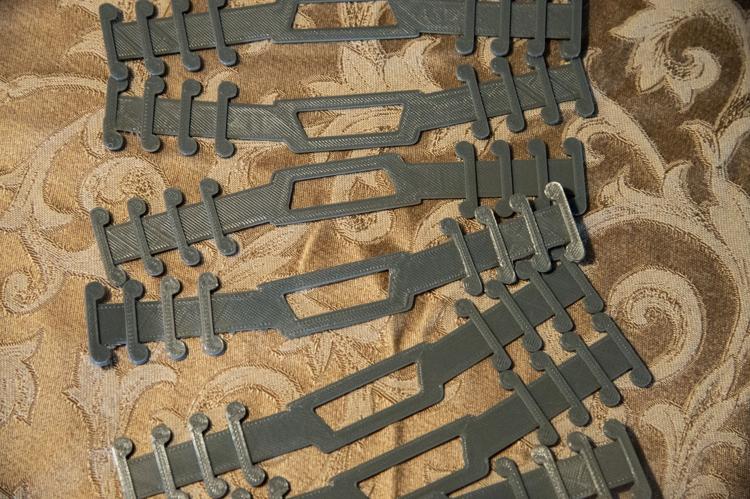 The family has seen a ton of support for their efforts on Facebook from members of the "Lockdown in Sackets Harbor" page, of which Mrs. McGuire is a member of, as well as the American Legion in Dexter.
Mrs. McGuire is the president of the Legion's Auxiliary and said the organization has offered to chip in to help purchase materials like filament if needed.
"I'm hoping it will inspire other families to do exactly what happened with ours; we saw something, got an idea and were able to replicate that," she said. "I'm sure there are other families that made a silly purchase thinking their kids would just pump out some toy ducks and you know, here we are doing something good."
Mrs. McGuire shared that the boys printed so much that somehow the plastic platform of the machine melted, so production has to cease for a few days while they waited for their new glass platform to arrive. Now, they should be good to go and can print as much as they need for their community.
"Honestly, going forward, I think everybody should have one of these," she said. "I might consider buying another one just to have. You never know when it'll come in handy again, to be able to just say, 'I need something, but I don't need to go to the store.' We all learned the hard way on how much we took that for granted."