BROWNVILLE — In about 10 years, Jannell Pickeral has battled thyroid cancer, breast cancer and two radiation induced sarcomas — one of which she is still grappling with.
Born and raised in Watertown, she is in her 30th year of teaching foreign languages at General Brown High School. Mrs. Pickeral, or "Mrs. P." to her students, has fought cancer since 2009 with unparalleled positivity and courage, according to her colleague Kristi Bice, chairperson of the Jannell Pickeral Benefit Committee, which was founded to offset some of the financial burdens befalling the Pickerals.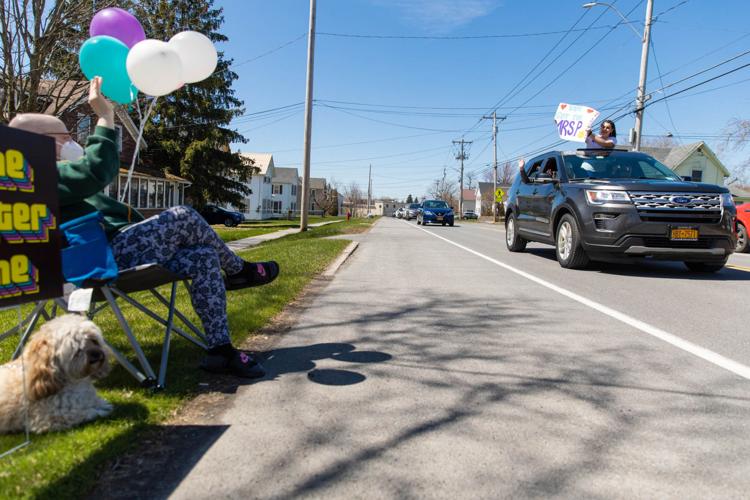 On Monday, the Brownville community came together for the "Parade for P," organized by Mrs. Bice and three others. Lining up at the Brownville Legion at 12:30, firetrucks and cars alike came together to celebrate an important member of the community and show support in her grueling fight — all while maintaining a safe social distance.
Former and current students, colleagues and community members drove by her house in a "Cindy-Lauper-blaring, cars-painted, signs-waving, streamers-flying, support-screaming, horns-honking, we-got-you stream of love" to let Mrs. Pickeral know that, despite the COVID-19 restrictions, they were still standing strong beside her as she continues her battle.
Joined by her husband Rob and sons Robbie and Carson, who all knew the parade would be happening, as well as her dog Lucky, Mrs. Pickeral sat by the side of the road to witness the surprise outpouring of love, delighted by the musical selection of one of her favorite artists — whom she's seen four times in concert.
"She is literally the most positive person that you could ever meet, you'd never know that she's had cancer four times," Mrs. Bice said of her friend. "She's always smiling, she's always happy. I think you can ask anybody; everybody just absolutely adores her."
Mrs. Bice, who works in the business office at General Brown, has known Mrs. Pickeral since 2005 and said anybody that lives in the area knows Mrs. Pickeral, so parade organizers didn't have to ask twice once they mentioned it. Dozens upon dozens of people in their vehicles turned out for the parade, putting a large smile on the face of the woman that means so much to them.
"It's unbelievable, their support, they've been with me every step of the way," Mrs. Pickeral said. "Their support is just unmatched."
She shared that she has been going a little stir crazy stuck at home unable to go to work and see her students, so it was a treat to see so many of them driving by and waving to her.
The day General Brown shut down due to the COVID-19 pandemic was a superintendent's day used to plan for the next two weeks. Mrs. Pickeral showed up to work Tuesday as well before they officially closed the building.
"I got sent home because they didn't want me in the building, but I was still there," she said. "I love my job and while I'm there it takes my mind off of everything else going on."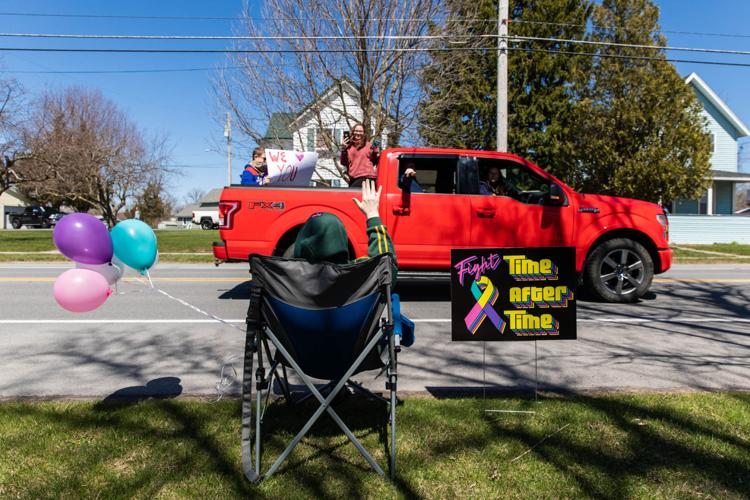 While she would take a day off here and there due to illness, Mrs. Pickeral missed very few school days before the shutdown. According to her husband, when she went through radiation a few years back, 37 treatments of radiation, she missed one school day even though she was "burnt as a lobster."
Though she wasn't exactly given the news everyone was hoping for when she recently went in for treatment, Mrs. Pickeral's smile never faltered. Faced with what others cannot imagine, she has remained positive and focused on living in the moment.
"This is my fourth time with the disease and ever since the first one I've been adamant that I'm not letting this disease define me," Mrs. Pickeral said. "I'm gonna live my life and do my thing. Yes, I have to deal with this, but it's not gonna define me."