WATERTOWN — Whether it be scheduling issues, wanting to head south or simply its convenience, residents in Jefferson County have been making their way to the city this week for the start of New York's first-ever early voting.
For the next nine days, Jefferson County residents may cast their ballot at the county office building — 175 Arsenal St. — ahead of the Nov. 5 election. Lewis, St. Lawrence, Oswego and Jefferson counties will each have one central polling station open every day from Oct. 26 to Nov. 3.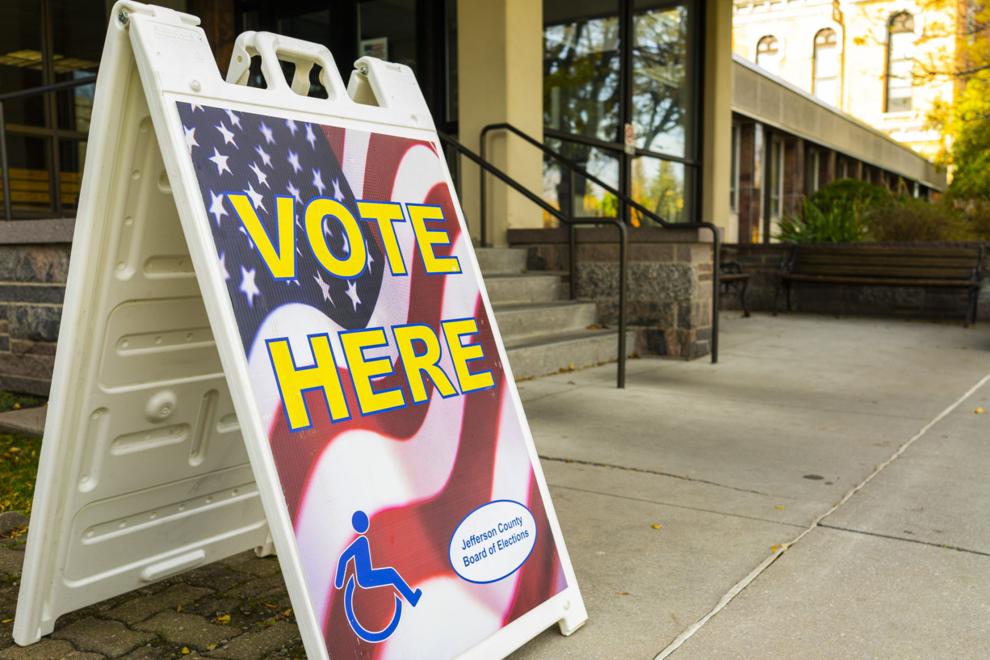 David Church, Evans Mills, was one of the first early voters on Saturday. Mr. Church said he won't be available on Election Day as he has a minor surgery scheduled that day.
"I heard about this and said 'sure why not?'" Mr. Church said. "It was exactly the same as voting on Election Day. Perfectly simple." Mr. Church, a retired Army veteran, said he always likes taking part in his community.
"How do they figure that they're going to have a say-so about anything that goes on if they don't vote?" he said of people who say they don't vote. "You know what I hear all the time? 'Well, my vote doesn't count.' Of course not if you don't cast it. But if everybody who says that would vote, we might be surprised."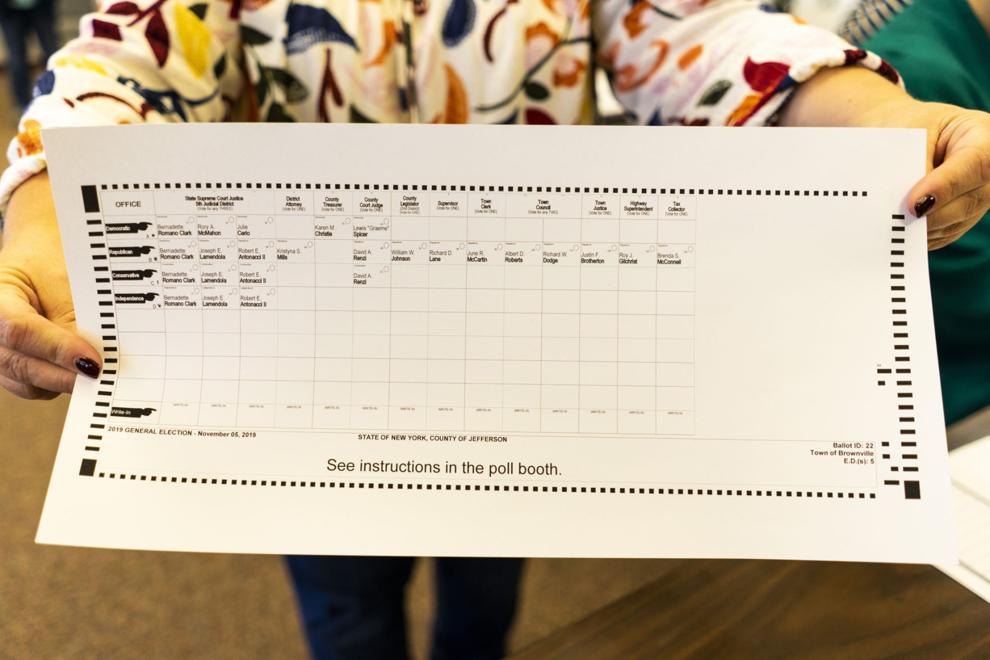 Other early voters said they would like to get a jump on their seasonal trips to Florida. Gert McQueen, Mr. Church's partner of more than 20 years, said she never understood the ballots only being open for one day.
"It makes no sense," said McQueen, who lives in Black River. "I mean I worked for 40 years. And now [Church] can make that surgery without thinking he's going to miss the opportunity to vote."
Ms. McQueen said she considers herself a conservative liberal. She voted for Barack Obama in 2012 and then independent in 2016, though she didn't like that she thought she had to make that choice.
"I'm over 70," she said. "I lived through a lot of different things in our country and had to support children on my own and hold down a job, so yeah I have to be conservative to get that. But then socially, there is a lot of changes that's happening. You have to be liberal sometimes."
Ms. McQueen said local politics doesn't affect her, therefore she would consider not voting in the Nov. 5 election, adding she knows she should. She said she has no party affiliation and her focus is the presidential race. Jude Seymour, the Republican Board of Elections commissioner, overheard Ms. McQueen's comments and decided to speak with her.
"I hear a lot of people who say that," he said to her. "But who sets your town tax rate? Who makes sure your garbage is picked up? Who makes sure that you have water and sewer to your house. Town people, right?"
She responded: "You're right. I should be more involved and conscious of all that."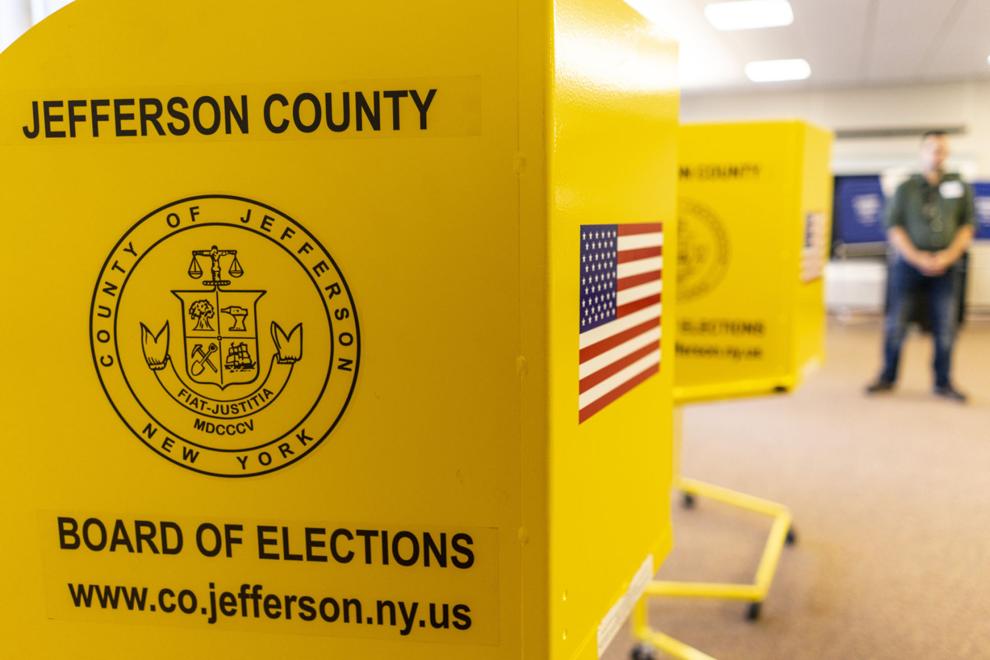 Mr. Seymour said he likes to tell people the board of elections offered 34 total hours of voting in 2018. In 2020, it will offer 225, he said.
"You're officially out of excuses — between absentee voting, early voting and voting on Election Day," he said. "If you tell me that you can't vote, I gotta wonder if you're really making an effort." Mr. Seymour said he wasn't in favor of early voting, saying he didn't believe the cost of staging it would encourage enough residents to justify it.
"I like to think of efficiencies," he said. "So I wasn't personally in favor of it, but now that it's here, my job is to execute it to its fullest extent. I want people to prove me wrong. I want people to show up in greater numbers than they've ever shown up."
The idea behind early voting is to expand the opportunities to cast a ballot. It just depends whether residents choose to take advantage of it, Mr. Seymour said.
"So for all the people that said 'well I can't vote because Tuesday, November 5 is inconvenient for me because I'm a corrections officer working a double,'" he said, "or 'I'm a nurse who got called in or I don't have a good source of transportation' — maybe you work in the city, so it's easy for you to come over."
Early voting in Jefferson County will be available from 9 a.m. until 2 p.m. on Saturday and Sunday. And then 9 a.m. to 5 p.m. on Monday, noon to 8 p.m. Tuesday and Wednesday, 9 to 5 on Thursday and Friday and 9 to 2 again on Saturday and Sunday.
Lewis County early voters should go this week to the Lowville town and village offices, 5535 Bostwick St. Lewis is running on the same schedule as Jefferson.
St. Lawrence County will run on the same schedule as well, except Tuesday and Wednesday, when the polls will be open from 9 a.m. to 8 p.m. St. Lawrence early voting will be at the Human Services Building, 80 Route 310, Canton.
"If you find yourself in Watertown over the next nine days," Mr. Seymour said, "and you want to vote, we encourage you to come out and vote, and we've given you 60 extra hours to do that."