TURIN — It started with an egg. Actually, it started with hundreds of eggs — 230 dozen, to be exact.
Blake Place, co-owner and operator of Hidden Pastures Dairy in Glenfield, understood first-hand the challenges posed by the shut-down around the state on every level of the supply chain from the market itself to the packaging and transportation needed to suit an interim market.
She has been innovating and scrambling as much as possible since the COVID-19 crisis began because she knew that whether or not she could sell her goats' milk, she still had to feed them and that she wasn't alone in the challenges she was facing.
When she learned Black River Valley Farms in Carthage, which lost its main market when restaurants closed, was selling a dozen small eggs for 20 cents, she bought that first 230 dozen and gave them to the South Lewis Central School District to add to its twice-weekly distributions to district children and their families.
"Black River Valley has to feed their chickens to ride this out. Selling their eggs at cost can help that happen," Mrs. Blake said, as it can for other area farmers and producers.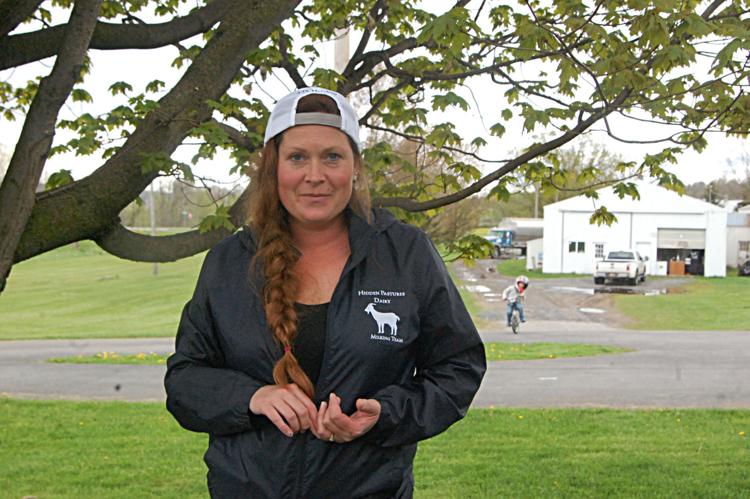 She had already donated quarts of the goat milk she had bottled for the first time for distribution to those families, calling it "Generous Milk," so taking the step to "Generous Eggs" when the opportunity arose was automatic, she said.
"In the first three weeks, we gave out 700 dozen eggs, a half gallon of milk and a quart of goat milk to each family and so many people were excited about it," Mrs. Place said, serving about 260 families along the bus routes.
By late April, the program was dubbed the Farm to Community program, and it is starting to take off.
Lyons Falls resident Tom Monks, a computer programmer at Lewis County Health System and a member of the international COVID Accelerator incubator for solutions to issues created by the pandemic, joined Mrs. Blake and Steven Fuller, food services director at South Lewis, on the program.
"Tom is amazing. I can't believe he lives right down the road," Mrs. Place said. "He sets up all the Zoom calls, set up a survey, the GoFundMe page — all of the tech — and now he's working on the website."
Mr. Monks also created a form on the program's Facebook page that helps farmers, producers and volunteers to get involved in the project easily by filling it out and clicking "submit."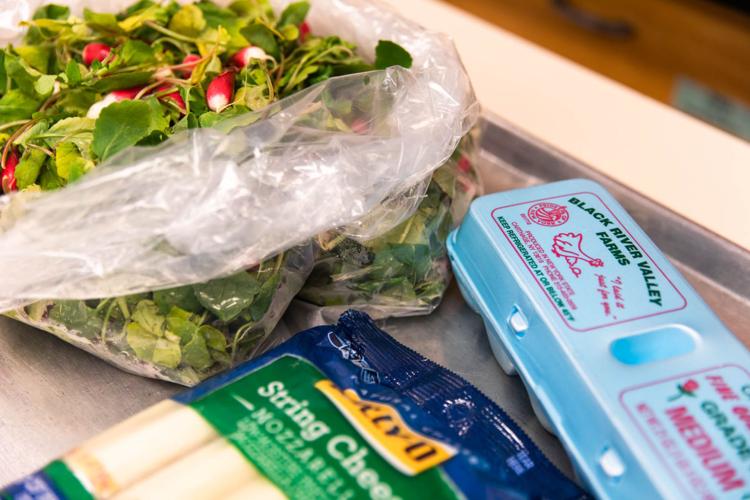 As of Monday, about 1,020 dozen eggs purchased from Black River Valley and 120 pounds of radishes donated by Agbotics in Sackets Harbor have already been distributed to about 620 students in 275 families, Mr. Fuller said, and more families join every day.
Part of the Monday delivery were pancake breakfasts with maple syrup from Markham's Syrup Shanty in Constableville.
Agbotics has donated beets for Wednesday's delivery, and Kraft gave 47 cases of locally produced string cheese for the program.
On May 16, the GoFundMe page met its $2,000 goal, which was then increased to $4,000, and now the team and the newly established board will oversee how the money is spent to help farmers and how to grow the program.
"We need more producers to fill out that form Tom put on the Facebook page so we know they're out there," Mrs. Place said.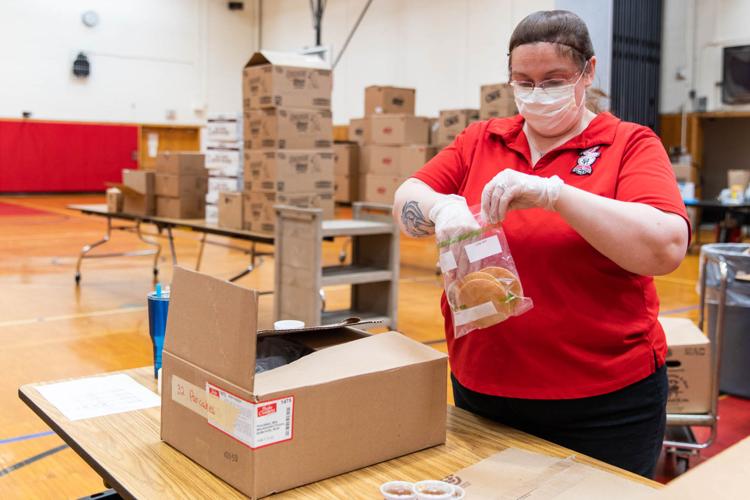 On its weekly Zoom meeting, the board has been working to find ways to expand the program to other school districts and to food pantries while considering how its will get the farm products to families when schools stop their deliveries at the end of June.
"We are considering all of our options," Mrs. Place said.
The Farm to Community team is convinced that it could expand not just throughout the county but around the north country and beyond: everywhere farmers and families are struggling and can benefit from helping each other.
For more information, go to the Lewis County Farm to Community Facebook page.