WATERTOWN — Venison is not on the Thanksgiving menu for Orvis A. Calhoun, but a heaping helping of gratitude certainly is. "He's lucky to be alive!" said his wife of 63 years, June E. Calhoun.
On Tuesday, Nov. 12, on Mr. Calhoun's 84th birthday, he became stuck in a swamp at Southwick Beach State Park in Henderson after shooting a deer. He called 911 and told a dispatcher about his plight. He was quickly rescued and the deer he brought down, a 10-pointer, was retrieved by first responders and later given to him.
"It could be his last one," Mrs. Calhoun said. "I think that's what the Lord was saying: 'He's 84. Let's just give him a deer, and on his birthday.'"
On Monday, from the living room of his New York Avenue home, Mr. Calhoun recalled his birthday adventure and how he got into the predicament.
"I definitely want to thank the Belleville Fire Department and the South Jefferson ambulance squad for helping me out," Mr. Calhoun said. "They did a great job. Volunteers — I don't care who it is. You can't beat them."
Mr. Calhoun has been an avid hunter since he was 21. Since then, he estimates he's bagged about 15 deer.
"I haven't really been a deer slayer," he said. "I just love being in the woods. If I get a deer, fine. If I don't that's also fine. I take a chair, sit in the woods and enjoy it."
At about 3:30 p.m. on Nov. 12, Andrew Lennox, EMS chief of the Belleville Fire Department and fire chief Devon Shelmidine responded to what they were told by dispatchers was an unknown issue of a man down in a swamp at Southwick Beach State Park.
It was the first time that Mr. Calhoun hunted in that park area.
"It was my birthday and there was nothing else going on," Mr. Calhoun said. "After my wife watched her shows in the afternoon, I said, 'Let's jump in the truck. I want to go down there for a walk-through.' I parked by the toll booth and the nature trail is right there."
Mrs. Calhoun used to be her husband's constant hunting partner. They've taken many memorable hunting trips together, including one in 1969 to the province of Saskatchewan, Canada. They've also made several hunting trips to Bancroft, Ontario.
But now, Mrs. Calhoun, who retired as a registered nurse from Mercy Hospital in 1997 after 28 years of service, patiently waits for her husband in his pickup truck while he hunts.
"I had two strokes and my doctor said, 'I don't want you in the woods anymore,'' she said.
"She won't let him hunt by himself," said Roy A. Calhoun, one of the couple's four children. "She'll sit there all day by herself if he wants to hunt all day long."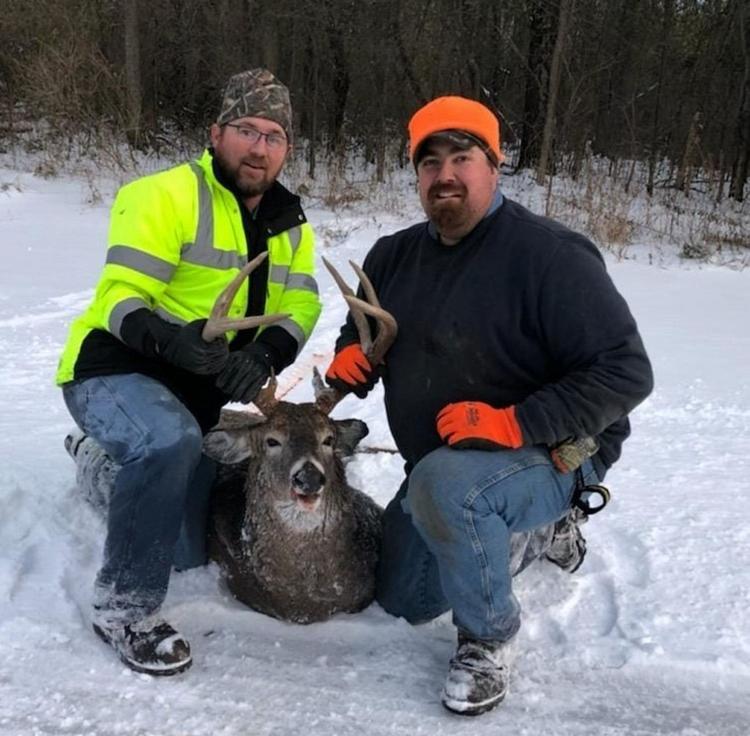 'WAITING FOR ME'
On Nov. 12, Mr. Calhoun was about a quarter mile down the park's trail when he saw the deer.
"He was standing in a swamp area — waiting for me," Mr. Calhoun said.
Quietly, Mr. Calhoun leaned against a tree, taking aim with his Winchester .270 caliber bolt action rifle. He knew it was an unusually large buck, but didn't count the exact number of points on its antlers.
"I made a couple of grunt sounds, he turned his head, and I said, 'You're mine,'" Mr. Calhoun said.
He saw it go straight down after being shot.
"I thought I gotta go in there to see how big he is," Mr. Calhoun said. "I knew it had a nice rack, seeing how big the body was. So I started walking into the swamp."
The water became deeper as he walked through the swamp, which had a thin covering of ice.
When the water was at his knees, Mr. Calhoun realized he was becoming stuck.
"My boots were full of water and I said, 'I gotta get out of here,'" he said. "Consequently, trying to turn around and get out, is when I kind of went back onto my back side and sat down right in the water."
He tried to pull himself up, but was unable to do so. One of his legs was also uncomfortably twisted underneath him.
"There was a tree next to me and I grabbed it, trying to pull myself up, but with the heavy, wet clothes, I just couldn't do it. I sat there and said, 'I've got to make one of two decisions."
He said he could either "die of hypothermia or call 911."
In what turned out to be a fortunate habit, Mr. Calhoun carries his Verizon flip phone in his coat pocket, near his upper chest. The phone remained dry.
"I always keep it there," Mr. Calhoun said. "It's just handy there, I guess. I told 911 where I was at. She (the dispatcher) said, 'Are you OK?' I said, I'm fine, but sitting in swamp water. I can't get up."
The dispatcher recommended that he stay on the phone until rescue crews arrived. But Mr. Calhoun said he couldn't. He had to end the call and call his wife, who was waiting in the truck.
"I told my wife, 'Be ready for ambulances. They're coming down there. I'm sitting in a swamp and can't get out of the water. I really wasn't panicking. I'm a pretty easy-going guy."
"I was a little concerned, but he said he can't get out of the water but he's all right," Mrs. Calhoun said. "They came right away."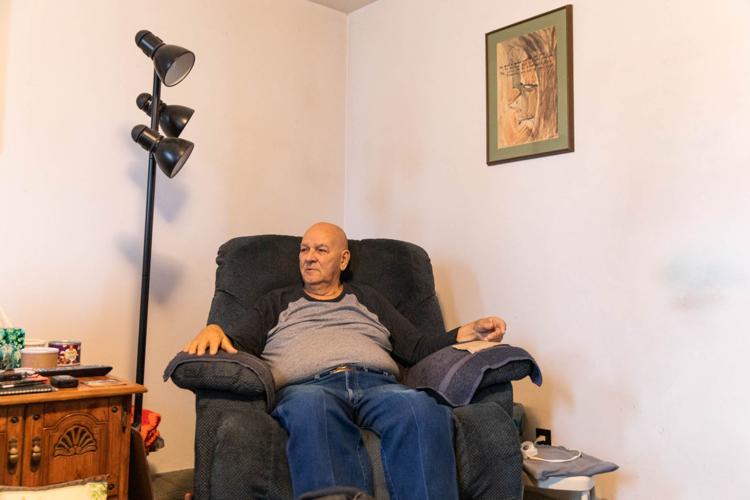 'AN UNKNOWN PROBLEM'
"We got the initial call from dispatch, just over our standard pagers, for an unknown problem at Southwick's," said Andrew Lennox, chief of emergency management services at Belleville Volunteer Fire Department.
Mr. Lennox happened to be nearby, as was Belleville Fire Chief Devon Shelmidine.
"That was the reason we were able to get out so fast," Mr. Lennox said. "We were both within a quarter of a mile of it."
Mr. Lennox, who said Mr. Calhoun was about 50 feet off the trail, was the first one to reach him. A park ranger arrived shortly thereafter.
"He really didn't say too much, just that he was cold and that he needed a hand up, and then telling us that he wasn't injured," Mr. Lennox said. "He was a little confused, which is normal for hyphothermia. He was very cold, shaking and shivering. He just wasn't able to talk that well. He was submerged up to about his waist in water."
"It was tough to walk in because of weeds, branches and such, a typical wooded swamp," said Mr. Shelmidine.
By the time Mr. Calhoun was helped out of the water and back onto the trail, other first responders had arrived. Mr. Calhoun estimates he was stuck in the water for about 20 minutes.
"When we got him out of the water and we started working our way back, he mentioned that he was actually in there because he was tracking a deer he'd shot," Mr. Lennox said.
Some members of the fire department and New York State Police went back and found the deer.
"He'd only been about 75 yards from it," Mr. Lennox said.
Mr. Calhoun was transported to Samaritan Medical Center by South Jefferson Rescue Squad. His wife rode up front in the ambulance, but not before she noticed the commotion in back of it.
"I couldn't believe it!" she said. "They declothed him and everything. His socks, everything, was off!"
Mr. Calhoun laughed at that recollection. "I wore my birthday suit out of the woods."
The couple's pickup truck was left behind where it was picked up by Debbie Sholett, one of the Calhoun's three daughters.
The plan was to put the deer in back of the truck, but at first, there was an issue.
"When they pulled it to the back of the truck, they said they couldn't lift it up," Mrs. Calhoun said. "It was too big and heavy. They called in a fork lift to get it from the ground up to the truck."
Mr. Calhoun said a park employee went to a shed and brought over the lift. The deer, Mr. Calhoun said, weighed 212 pounds when field dressed.
"It's the biggest deer I ever killed in my life," he said. "I was totally shocked at the size."
The venison from the deer is being stored in Roy Calhoun's freezer in Limerick, while its head was sent to taxidermist Thomas Hovendon of Copenhagen for mounting. Mr. Calhoun thinks he will mount it in his living room.
"Or in the kitchen, so when you're coming in, it's looking at you," he said.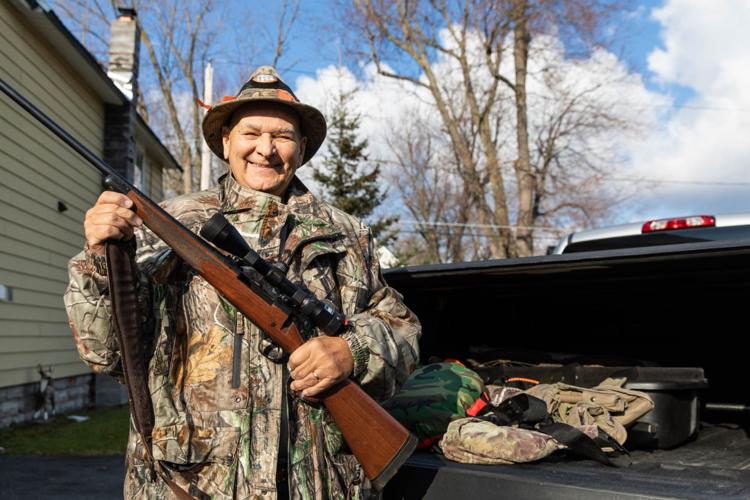 BACK ON THE HUNT
After his rescue, Mr. Calhoun spent about two hours at Samaritan Medical Center. He returned to the hunting spot at Southwick Beach State Park this past Sunday. He didn't see any deer in that quest.
"Well, we saw some when we were in the truck driving, but he didn't see one in the woods," Mrs. Calhoun said.
Mr. Calhoun's 84th birthday adventure on Nov. 12 will likely go down as another hunting memory. Looking back, he specifically recalls 1969 as a milestone year for his hunts.
"That was the year that I decided I had enough drinking and I quit," he said.
He said the decision "most definitely" changed his life, especially when he realized he used to mix drinking and hunting.
"I would highly recommend against that," he said. "If hunting, don't drink. Wait until you get out of the woods. Put the guns away, and then drink. I've done my share both ways, so I can lecture on that. As a young man, I did my share. Thank the lord that nobody ever got shot in my (hunting) parties."
Now, Mr. Calhoun hunts by himself, but with his wife nearby, just thankful for being in his 80s and at that age able to go into the peaceful quiet of the woods to sit, watch and wait.
He's also grateful for his recent hunting adventure — a lesson learned.
"I made it a point. If a deer is in a swamp like that, it's best to just say maybe he'll come out. And the next time, I'll get him."