A little more than four years ago, bones in Ky Sawyer's left leg shattered as a car crashed into his motorcycle. A defensive tackle then for the Watertown Red & Black, he was heading home from the gym when he was hit by another car and run over. As he laid on the gritty pavement in the intersection of Factory and High streets, blood pouring from his wound, he questioned whether he would survive. Whether he would ever again play football.
He survived that night, but he lost the lower portion of his left leg. Doctors amputated it just below his knee.

A football player since he started with the Carthage Bears at about age 5, Sawyer, now 29, said he'd never missed a football season.
Sawyer, 6-foot-4 and 220 pounds, stood on the sideline of Schenectady High School July 20, awaiting kickoff. Dressed in his white No. 92 Red & Black jersey, resting his hands on his hips he was photographed from behind waiting to enter the game — his first since the crash, the first time with his prosthetic leg.
"Still can't believe I was lucky enough to take the field again last night, did better than I expected and now I'm ready to put in extra work for the rest of the season! #thecomeback," he wrote in a post accompanying the photo on Instagram.
He included 11 other hashtags, but "#thecomeback" was listed first.
Saturday night, he'll have the chance to reintroduce himself to the home crowd when the Red and Black (2-3) host Plattsburgh (4-1) for their home opener.
"I just wanted to prove to myself that I'm still who I was before," he said.
Sawyer's teammates and coaches have called him a warrior, and an inspiration for his work ethic in returning to the football field.
He was in the hospital for a week and a half, and then started working his way back, slowly at first and then more rapidly as he learned how to live with a prosthetic lower leg.
Running back Joe Brennan calls him a "warrior," while head coach George Ashcraft agrees that he's an inspiration. But, as Amir Farhat, a teammate, said, Ky is also "the biggest joker on the team."
Sawyer fully acknowledges his light-hearted nature.
"Oh yeah, I don't take anything seriously at all in life," Sawyer said. "It makes life better, some people hate it, but they'll get over it."
He was this way before the accident, but not even the traumatic experience of losing a limb has dampened his personality. Not even in that moment when he was lying in the street four years ago as first responders prepared to take him to the emergency room, did he let a joke escape.
"When my accident first happened I was laying on the ground making pirate jokes with the EMT's," Sawyer says. "I was like 'I'm going to be a pirate for Halloween."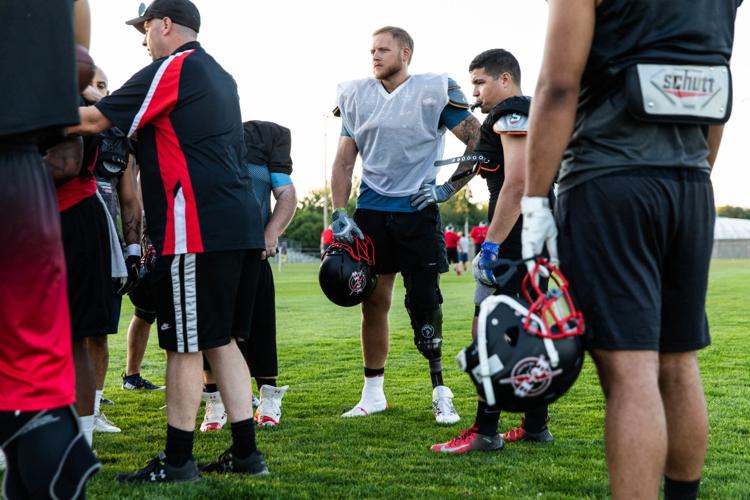 Sawyer remained adamant that his injury would never affect his outlook on life. Only weeks after being discharged from Upstate Medical University in Syracuse, Sawyer was back in the gym. It wasn't the advised move, so he'd have to sneak out. He'd pack his wheelchair in his jeep, drive to the YMCA, unload it and go about working out as best as he could.
On Oct. 8, 2015, he was fitted for his first prosthesis by Northern Orthopedic Laboratory on Washington Street in Watertown and by Oct. 15 he was walking out of the office unassisted, ready to take on the challenge.
But behind the jokes and the smiling pictures, Sawyer faced personal demons.
After becoming addicted to morphine in the month following the accident, he cut himself off cold turkey leading to withdrawals that he described as "horrendous."
While he continued to hit the gym, poor habits caused him to put on weight and by January 2016, he weighed 319 pounds, up from the 240 he weighed at the time of the accident.
But his weight was far from his biggest concern. Tragedy struck Sawyer in the beginning of 2016 when his best friend overdosed and passed way. Feeling that pain forced him to make serious changes in his life.
"I knew I was messing up, but that really kind of put me over the edge and I realized that I really need to put my life together," Sawyer said.
Sawyer's impact has reached hundreds. His Instagram account, ky_sawyer_92, which has over 1,700 followers, is often flooded with direct messages from strangers telling him how inspiring he is.
For as much as sharing his progress on social media has encouraged others in similar situations to continue working toward their goals, it has also helped Sawyer stay focused on his own.
"I know me showing everything I'm going through, what I do with myself, helps everyone else," Sawyer said. "In return, I push myself harder because I don't want to disappoint anyone else."
Sawyer's commitment to being bigger, faster and stronger than he was before his injury has inspired teammates to make changes in their own lives.
"I personally, because of Ky, at the time hit the gym and I lost about 25 pounds or so," said Farhat. "I started off at 295 and I'm down to 270-260 and that's all because of Ky's inspiration to never give up. He's like a Rocky Balboa, you've got something in the tank, you have to keep it going."
Like Rocky Balboa, Sawyer's workouts are intense — scratch that, they're insane.
Early on in his recovery, he would need to pause his workout almost every 10 minutes to detach his prosthesis and drain the blood that filled up the socket. Of course, he posted that to Instagram as well.
People have tried to tell him to take it down a notch and he has to a degree. "I go a little bit slower and I warm up a little bit longer, I'm getting old," he said.
Sawyer is more than willing to work through the pain. He's been through worse, he said. The goal is getting back to football, whatever it takes.
The Red and Black's week two game versus Tri-City in Schenectady was a difficult one. The Spartans have one of the best offenses in the Empire Football League and have a particularly strong run game.
"My first game at first I was a little bit antsy. In the beginning, but after I got my first tackle, I was like this is it, then I started kicking ass, I guess you can say," he said.
His opportunity came midway through the first quarter.
Tri-City attempted to run the ball up the middle, only for the running back to find Sawyer in his way. Sawyer wrapped up the runner and swiftly brought him down for his first tackle in four years.
The moment was surreal, not just for Sawyer but for his teammates as well.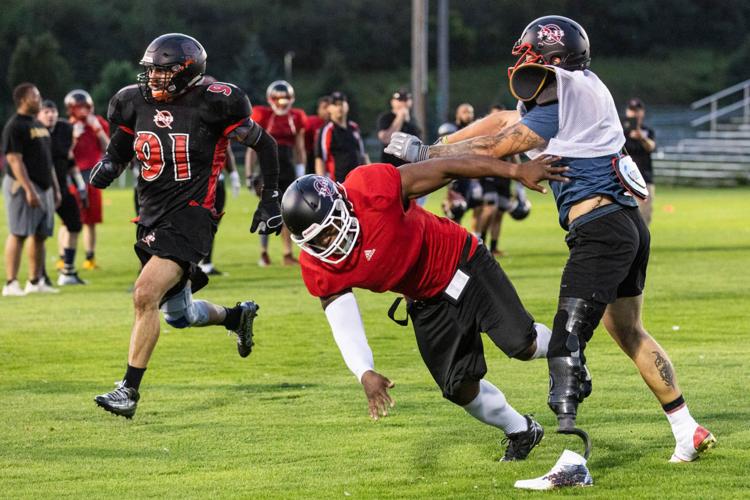 "Him saying, 'we're going to be back, I'm going to be back out there with my brothers' and to see it actually come to light?" Derrek Dalton said. "It made it that much more special."
Sawyer took off from there, finishing with six tackles.
Today is Sawyer's first home game since he lost his leg and he's expecting a crowd. Not only are the Red and Black hosting Plattsburgh, their rival, he said he has hundreds of people coming to see him play and they're coming from all over.
"One of my buddies is coming from Florida, people are coming from Michigan, Cleveland, all over the place," he said.
He's nervous but once the game gets going and he secures that first tackle, it will again be business as usual.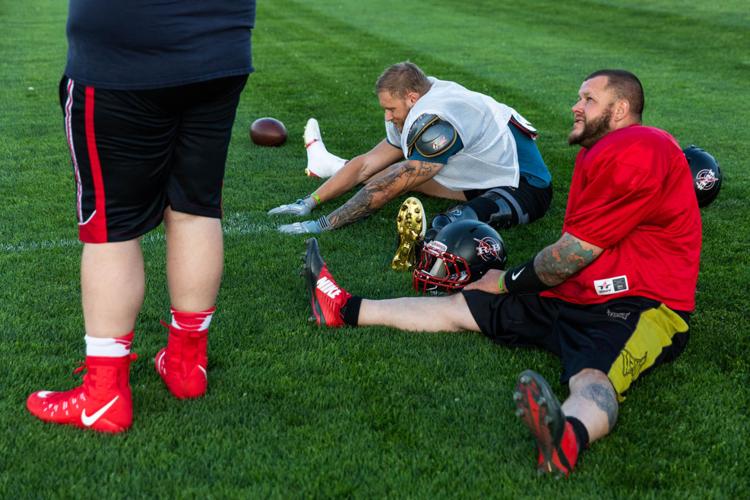 At practice Tuesday, he started with stretching and position drills, but it turned into an intersquad scrimmage for the last hour of the two-hour practice.
He chatted before plopping down on the sideline to stretch. He asks for the time — 7:30. He stretches and chats some more before asking again — quarter to eight. The waiting continues before he finally gets the call to join the game.
"Sawyer!" a coach shouts from midfield. "Middle linebacker," he orders.
Sawyer, wearing a slightly tattered white practice jersey and white cleats with a menacing pirate design, straps on his helmet and assumes his position. He prowls the middle of the field on every play following the ball carrier, searching for his opening.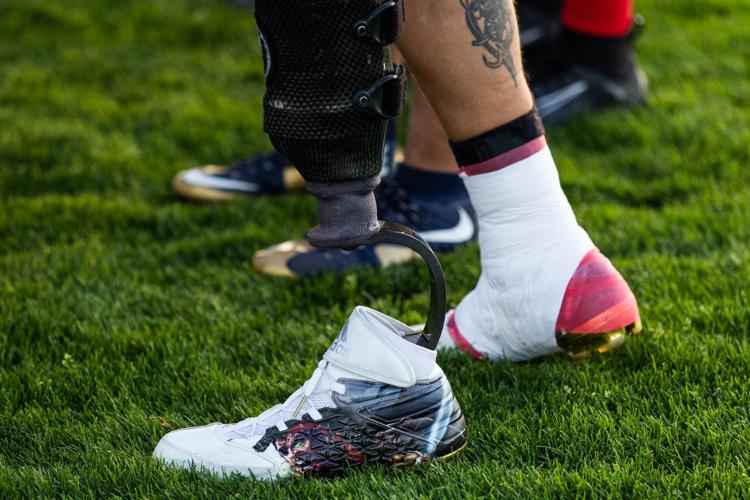 Finally he gets one. As a blocker blocks for the quarterback in a gap on the right side of the line, Sawyer bolts over, drops his shoulder and levels him, sending the blocker to the ground while Sawyer remains upright.
Even with a carbon fiber left leg, it was vintage Ky Sawyer.