WATERTOWN — William J. Flynn III easily remembers the day that the city's outdoor pool was dedicated to his grandfather in 1981.
His father, aunts and cousins all were there to dedicate the pool to his late grandfather, William J. Flynn, who served on the City Council from 1946 until 1962.
Well, his 93-year-old aunt, Sally Palumbo; his sisters; and a bunch of cousins came together on Monday night for a ribbon-cutting ceremony to dedicate a new sign for the pool and 10 cement benches.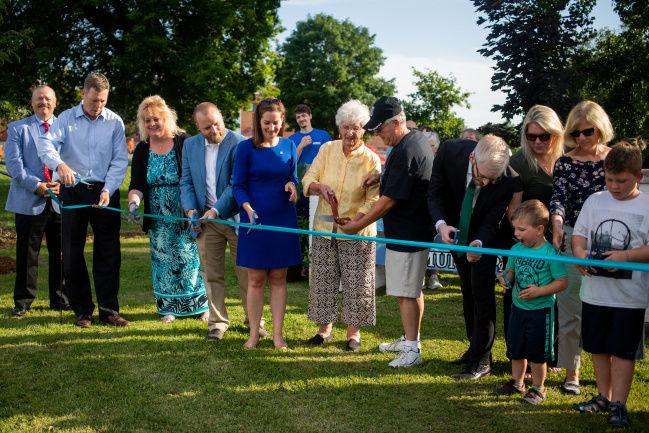 About 40 people of the Henry and Flynn families — including City Council members and third cousins Ryan Henry-Wilkinson and Sarah V. Compo — were there on hand for the occasion on a pleasant summer night.
"I came up from West Point. I was a medic at Keller Hospital," Mr. Flynn said about the last time.
Mrs. Palumbo, Councilwoman Compo's grandmother, joined her family members for a group photo at the sign. In all, four generations attended the dedication, a family reunion of sorts.
"I'm happy to be here," she told a reporter.
For the past four decades, the city has run a summer program at the North Elementary School outdoor pool and at the Alex T. Fairgrounds.
William J. Flynn's granddaughter, Mary Henry, started the project back during the spring. She noticed that the old sign needed work, so she approached Parks and Recreation Superintendent Erin E. Gardner and City Manager Rick Finn about the idea of donating the money to fix it.
"I noticed the sign was a mess," Ms. Henry said.
One thing led to another, and there were so many cousins and grandchildren willing to help and donate money to the project, they decided to add the benches. Some flowers will be planted later, Ms. Henry said.
"This was more than putting a name on a sign," Councilman Henry-Wilkinson said. "It was important for the family."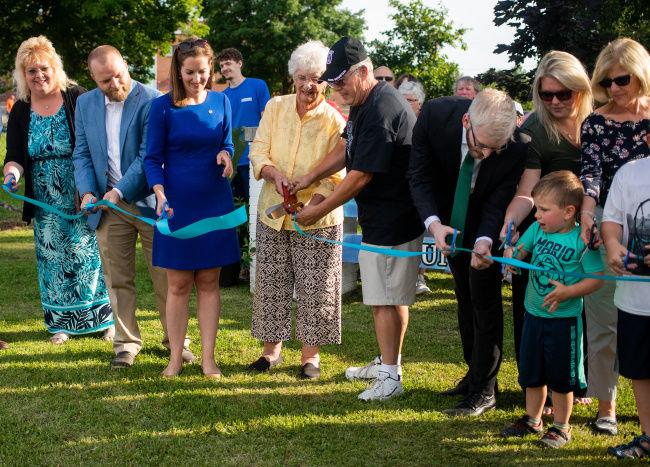 They not only wanted to do something for the pool that bears Mr. Flynn's name but also something for the city's north side, where almost all of the Henrys and Flynns grew up.
Mr. Flynn also was well known in the community for his service to the city and running Crystal Springs Water from his Davidson Street garage.
"It's quite a legacy," Mayor Joseph M. Butler Jr. said.
To end the event, the family had an ice cream truck serve free ice cream to the children swimming in the Flynn pool.