PARISHVILLE — When it comes to building guitars, Tracy Cox throws out the rule book.
Since 2005, Mr. Cox has been building guitars and doing inlay work, from his start in his native Malone under the tutelage of David Nichols of Custom Pearl Inlay, to his stint working in the Nazareth, Pa., Martin Guitar factory from 2007 to 2010, he has done custom work for the likes of Eric Clapton, Jimmy Page, and Steve Earle.
"It was a really sweet gig, hobnobbing with rock stars and celebrities," Mr. Cox said of the Martin gig. "They treated me like a rock star. I was Martin's inlay guy, so it was all sparkly and glitz and they were all like, man that is so cool. Plus I was a tour guide so I got to walk around and talk about it."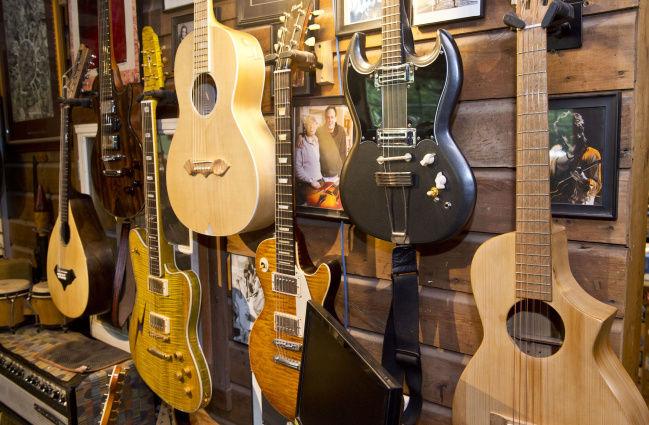 He said after he started doing the inlay on guitars, he thought a lot about the wood and appointments and then bent the rules of construction by doing things like building a guitar out of a piano. He also built a guitar out of the original wooden front door from Picken's Hall in Heuvelton, used a wooden board from the USS Constitution in the making of a guitar, as well as wood from the USS Iowa.
"But you know it could be from a specific tree, like if your granddad planted a tree and then it fell over in a storm," Mr. Cox said. "Cut the tree up and build a guitar out of it."
But he wanted to bring that work home to Parishville where he has lived for more than 20 years.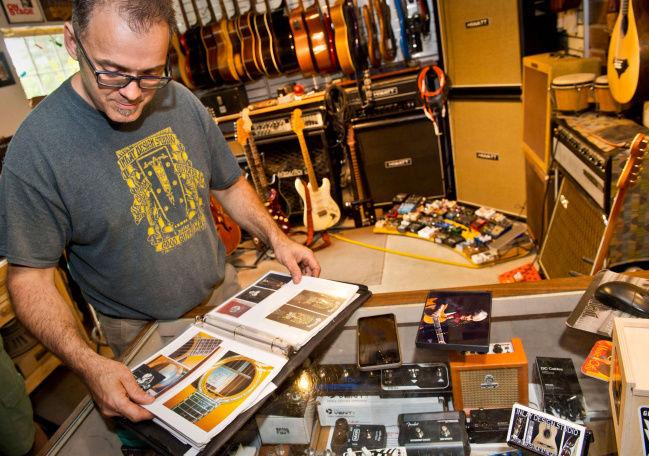 Now, the 45-year-old teaches people how to build their own guitars and the art of inlay in his home, where he said he has married his two great loves: art and music.
Exuding enthusiasm as he milled through his workshop on Wednesday morning, going from guitar to guitar, Mr. Cox recounted his time in the industry, a constant smile drawn across his face, giddy and chuckling with excitement over the work.
"When I started doing this it was because my wife purchased me a guitar and wanted to have some inlay work put on it, because I have an art background," Mr. Cox said. "So I went to David Nichols to learn how to do inlay, and a minute after I held that saw in my hand, I was like, 'I'm home.'"
Within a week he was building his first guitar, a guitar that still hangs in his workshop, hidden away in the backwoods of Parishville, in a home he built with his own two hands.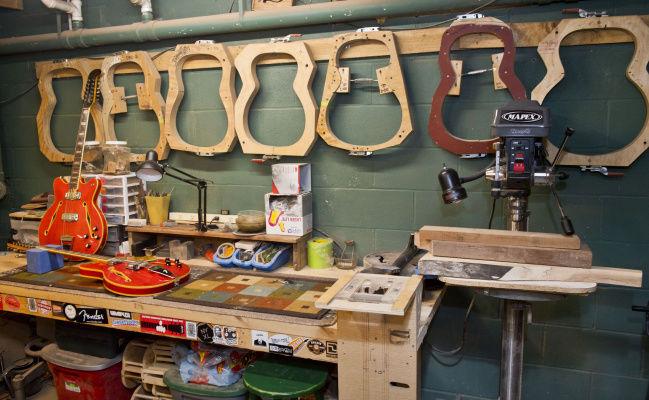 It is an acoustic guitar with a mother of pearl inlay portrait of Neil Young on the headstock, the word "Harvest" at the top.
"I did the inlay and then the following week I built that guitar around it," Mr. Cox said. "So what I started realizing was rather than that being all mother of pearl, I can create it with different types of woods. I realized there are no rules and once I realized that, my approach to doing inlay just completely changed. I really felt like I knew what I wanted to do with the rest of my life," Mr. Cox said. "I've been able to marry my two passions: my love of art and my love of music.
He applies that theory when teaching his students.
Nathaniel Brown and Adrian Pilliod, both of Potsdam, are two of those students.
Mr. Brown was working on repairing a mandolin and said that he ended up in the shop to learn how to build a Nordic Mandola after learning about Mr. Cox through the music community.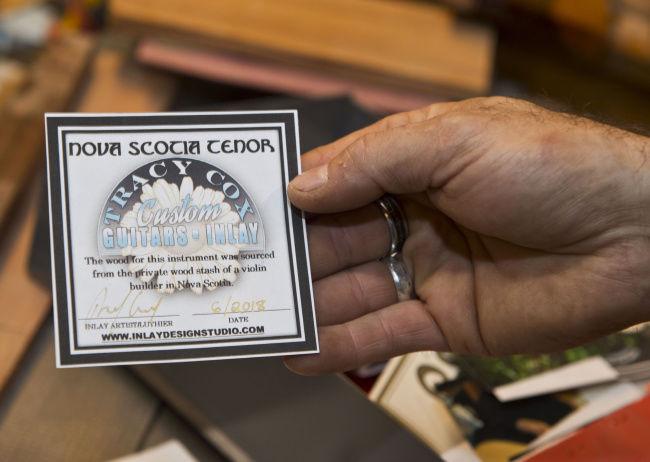 Word of mouth is how most people learn of him, Mr. Cox said.
"I got talking to him and said I heard about this instrument because I'm into Scandinavian folk music," Mr. Brown said. "It's called the Nordic Mandola and I was like it's such a crazy and unique thing that I would only be able to get it if I wanted to pay some Swedish Luthier like $5,000 or something and Tracy was like, 'Eh, I can figure it out.'"
And figure it out he did.
"So he built one to sort of pave the way, and now he is showing me how to make mine," Mr. Brown said.
For $1,500, the class isn't just about facilitating you having a new guitar, but that once you understand the dynamics of building the guitar, you can pretty much do anything, Mr. Cox said.
"It really allows the process to be more individualized and more specialized to your needs and your ideas," he said. "Most people when they come in they are really apprehensive because what they're afraid of is they're going to be able to build something and when they're done they are going to pay all that money and it doesn't sound good but I understand how to make a guitar that sounds pretty good, so once you know how to do that, you can make anything kinda sound good."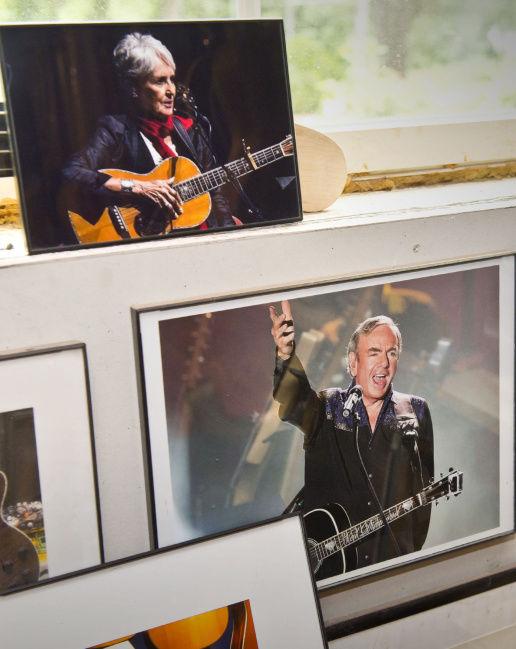 He said the experience brings a level of excitement to his students, that once they build that first guitar, that "maiden voyage," as he likes to call it, they become "repeat offenders," like Mr. Pilliod, who ended up in the door because of a coworker who also plays guitar.
"'Repeat offender,' yeah," Mr. Pilliod laughed in agreement. "I came up here and the first day I traded in my Strat and went home with one of his electrics that he built and then I was coming in trading pedals and one day he just said, 'Dude, build a guitar.' He was trying to get me do it for a month and I was like, 'You know Tracy, I think I'm gonna do it,' and I just haven't stopped. That was about two years ago."
Since then, he's built four acoustic guitars and a lap steel guitar.
Mr. Cox has taught on the road but has a solid following at home where he has had students as young as 18, international students and even an 83-year-old man who is a student in Virginia and who he said has become a good friend.
"It's a pretty luck gig that I got because I get to do what I love and I'm surrounded by people who also love it," Mr. Cox said. "I gotta say that for me building an acoustic guitar is really what kind of nurtures my soul. It's not what I do, it's who I am."