MANNSVILLE — Many of their origin stories aren't complicated. They're competitors, and their breed of dogs were born competitors — might as well do what comes natural.
They were there early on Saturday, nearly 100 mushers competing in the 35th Tug Hill Challenge at Winona State Forest. Some were arriving at around 7 a.m., others were already there. Large cars towed trailers into the parking lot of the field headquarters in Mannsville. Most had short chains dangling around their trailer where their dogs would wait as the mushers prepared. Different breeds waited around the trailers, letting out a bark from time to time, looking restless though staying calm before the storm for the most part. There was hay and sawdust on the ground to keep the dogs' feet warm as they waited. Different racers greeted each other with a hug near the starting line before setting off through the chute.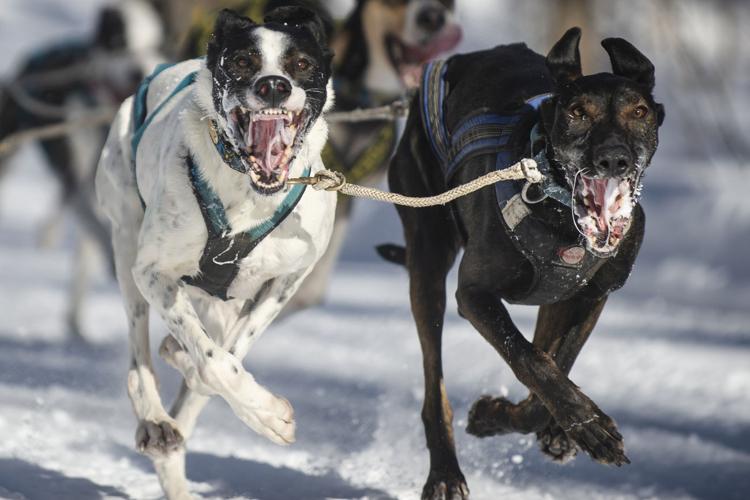 Barb Hartman, who's been director of mushing with Winona for 20 years, was selling coffee and doughnuts in a warm barn to raise funds for the volunteer organization. She's helped groom the trails through the years, and Saturday they're firm and in great condition. It's a two-day race starting Saturday morning and lasting into the afternoon. The competitors come back Sunday morning and do it again, then combine their times and decide the winners. There's different events separated by age group and types. There's skijoring, which is where one person straps a rope to one or two dogs and skis behind them as they pull. There's four-dog sled teams with races of 4.5 miles. There's six-dog teams with races of six miles, and the novices and kids race less than two miles.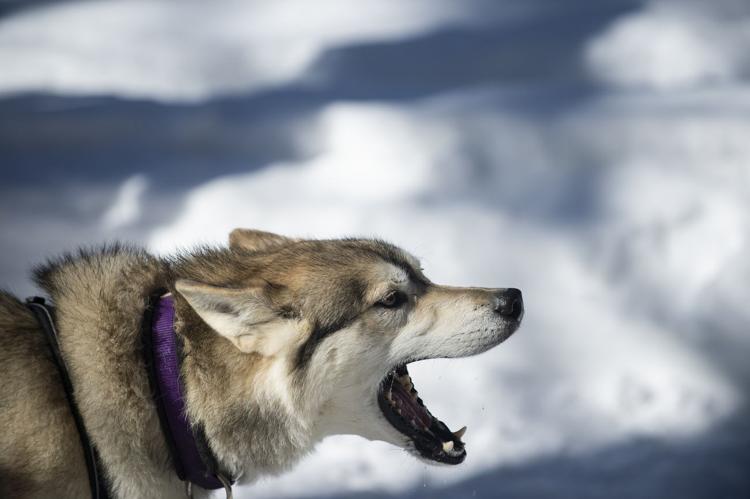 James Tackeberry has been doing it nearly four years. He lives in Virginia Beach, and it wouldn't be ignorant to assume dog sledding isn't rampant in that area.
"There's none," he said. "It's just me."
Mr. Tackeberry had bought a Siberian Husky when he was living in an apartment in Virginia.
"I realized they needed to be runned," he said. "And it went from there."
He now has a four-dog team and has traveled from Michigan to Maine to run trails with them. This is his first time competing in the Tug Challenge.
"It can be an expensive hobby," Mr. Tackeberry said. "You have to fuel these machines year round."
Bonnie Nessia and her husband, Jim, of Utica, have been dog sledding for 20 years. They've competed in the Tug Challenge in nearly as many years. Ms. Nessia is 66 years old and placed third in four-dog race of the North America International Federation of Sleddog Sports World Cup, a race that included 90 competitors from 16 countries.
"We did pretty good," she said.
She was in a 4.5-mile race on Saturday, a distance she and her dogs have done in 17 minutes. But expectations weren't extremely high as she is racing with a rookie dog on Saturday, and the event is mostly for the fun and tradition of it all.
Ms. Nessia said she has been successful after changing the brand of food she gives her huskies, and continuing using dogs that come from excellent breed lines.
"We would only breed to the better line," she said, "and we keep most of our dogs. It's not like we're out to make money."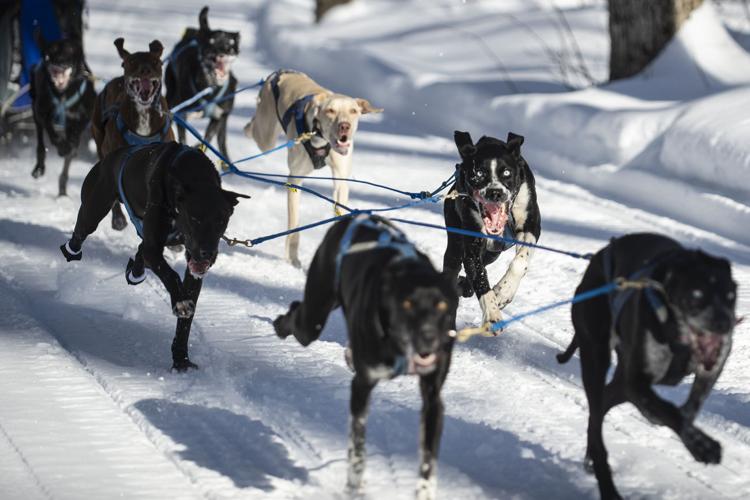 And she has trust in her dogs. There's training at first for any beginner, but once they're over the hump, then the experienced dogs training the rookies on their own. "It's like a job," she said. "They're out there doing a job."
After they retire, Ms. Nessia said they keep most of them as pets. That's how she got into in the first place. They decided to breed one of their huskies, and the puppies were too great to get rid of.
"You can't let them go," Ms. Nessia said. "I can't believe people try to get rid of their dogs."
The prize money might not cover the bill, but that's not the point. It's to let these dogs do what they were born to do, and maybe the people weren't, but there's no going back once they felt the rush.
"This keeps me going," Ms. Nessia said, "If not, I'd be in a rocking chair."