LOWVILLE — At 18 months old, Blue, a 160-pound baby behemoth dog, is still growing.
Blue takes a long time to trust people and before that happens, he's skittish and nippy. When a little dog is nippy, it's annoying, but when a Great Dane is nippy, it veers quickly into a bite and an "aggressive dog" description.
That is Blue's story, too. But on Friday, he began a journey with an Oklahoma-based large dog rehabilitation and rescue group that is likely to change his life.
According to the Lewis County Humane Society shelter manager Kris Bidwell, Blue was brought to the shelter in December by a woman who said she loved him but her landlord said she couldn't keep him. Blue was too big to stay.
Because the woman worked during the day, he was usually crated for extended periods and left alone. He had almost no socialization with people or other animals, making him protective of his owner and wary of everyone else.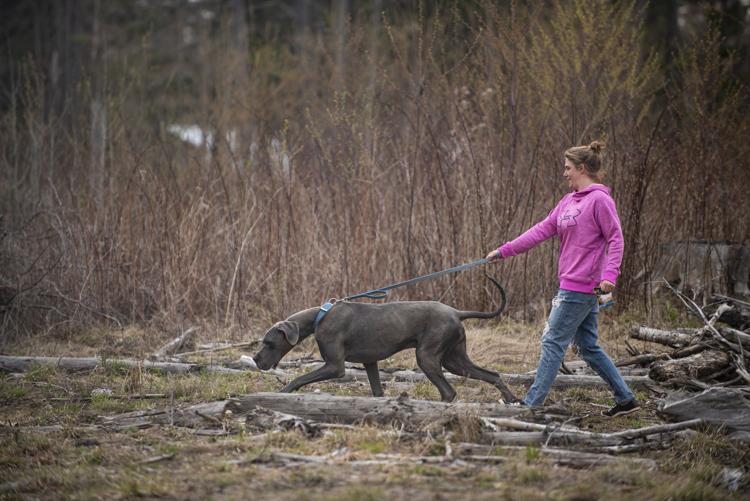 Blue warmed up to the Humane Society staff, especially Amber Zehr, and while hundreds of people expressed interest in him, Blue didn't let his guard down with any of the potential adopters. In one case, an innocent action led to a defensive 'nip' and a change in plan.
When Blue approached the woman of a couple considering adoption, her husband reached out and touched Blue on the side, Ms. Bidwell said, startling the dog who whipped his head around to nip at what touched him — a nip that, with a mouth the size and strength of Blue's, became a bite.
The man said he knew he shouldn't have touched Blue before the Dane was ready and wasn't angry about what had happened. The couple was determined to find their new furry family member and while waiting for the bleeding to stop, they met another dog, adopting it the following week.
Blue was no longer available for adoption after that incident and Ms. Bidwell knew she had to find someone who could help him overcome his nervousness and learn to trust people. Finding a rehabilitation organization that works with dogs that are as large as Blue and have been deemed aggressive isn't easy, unless serendipity takes over.
A Saint Dane — a St. Bernard-Great Dane mix — being fostered by a Carthage woman through just such a rescue group was brought to the Humane Society by dog patrol as a stray in January.
Adriana's Saints and Angels Rescue, Inc., based in Moore, Okla. near Oklahoma City, is a group that specializes in large dog breeds referred to as "giants," especially St. Bernards, and one of their microchips was in the Saint Dane.
"If that hadn't happened we probably never would have met," said the group's co-founder Shannon Synosky.
Ms. Synosky and her daughter Adriana Kelso began the shelter in March 2019, the fulfillment of Adriana's dream to own their own shelter.
"I like giants. I've always had giants," Ms. Synosky said. "St. Bernards are kind of like my spirit animal, so Saints, Danes, any kind of large breed I love. In the south, they're the first ones to go because of space. You can put five dogs in that kennel instead of one dog or two dogs."
After hearing Blue's story and reading his history, Ms. Synosky agreed to work with Blue and made plans to come north to get him.
That was in February, but when the COVID-19 crisis began, her cross-country road trip delivering dogs to new forever homes and picking up new rescues from foster families was delayed.
The delivery aspect of Saints and Angels is crucial for a successful rescue to Ms. Synosky and her daughter because they can help a family introduce the new dog into their "pack," making the adoption more likely to be successful.
"I come in and I know how to integrate and introduce a dog properly. I want to make sure everybody's safe, everybody likes each other, because 99 percent of them are adopting off a photo and a description. They're not seeing them in person until they get there."
Introductions can take an hour or five, as happened with the Newfoundland joining a family with a territorial St. Bernard on Friday before she came for Blue.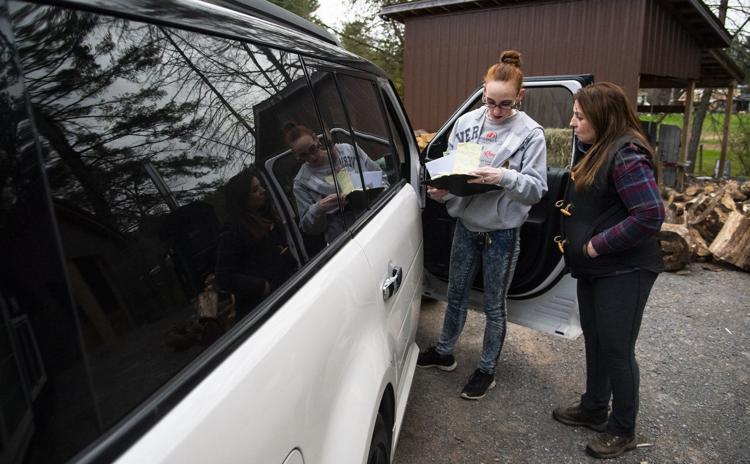 The mother-daughter duo and their team of handlers, volunteers, pet foster families and an animal behaviorist have orchestrated the successful adoption of 173 pets. There have been five adopted dogs returned for various reasons, four of which were not delivered and so didn't receive the basic training provided when Ms. Synosky takes animals to their new homes, she said.
Ms. Synosky said Saints and Angels is, to her knowledge, the only shelter in the country that will take aggressive Saint Bernards.
"I have a soft spot because 99 percent of aggression is fear and the other percent is medical. We as humans get a second chance so why shouldn't they get a second chance," she said. "There's never a guarantee. Animals are animals." The Saints team has rehabilitated 21 animals with behavioral issues like Blue's in their first year. One dog, however, could not be rehabilitated.
"Usually, even if they have some issues, you can accommodate them with the right person in the right place, but our behaviorist, who has been doing this for over 30 years and works only with red-zone rescue dogs, could not trigger him to be aggressive. He would just flip for no reason, out of the blue. It was horrific," Ms. Synosky said, eyes welling. "It was really, really hard."
Ultimately, that dog had to be euthanized and during a post-mortem exam was found to have frontal lobe damage that was causing the aggression.
"Stranger aggression, like with Blue, comes from lack of socialization. People don't realize that socialization is also in your home. It's actually more important in your home than it is out of the home — having people come into your home — because [dogs] get very territorial, very possessive of their space. It's more important than taking them to Lowe's," she said.
Often the best rehabilitator for dogs like Blue are canine social butterflies.
"Usually we can find a dog they can click with. We pair them up and that dog can teach them after we've tested them on all of the aggressive scale so that we know what all of their triggers are. We usually don't know what they are until we get them," Ms. Synosky said.
The cost to rehabilitate an aggressive dog is between $3,000 and $6,000 she said, and they organize the money primarily through online fundraisers on Facebook for each animal that needs help and in general on GoFundMe, accepting donations through a number of online platforms.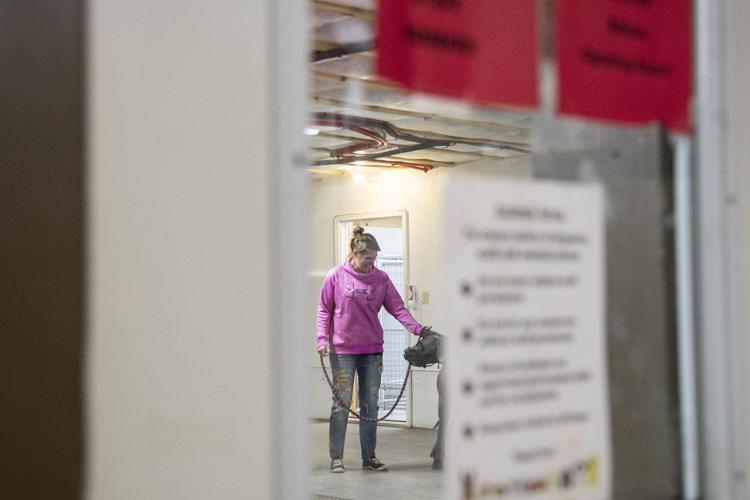 Saints and Angels focuses on giants but takes most dogs and cats, especially since the pandemic, as many shelters in their area are no longer accepting animals.
The rescue does not board animals, they work through foster homes. Dogs with behavioral issues either get "board and train" services with the behaviorist, or they go to Ms. Synosky's home to work with them.
The key to her work is teaching people about giants, their needs, how to read their body language and to know what to expect.
"A lot of people get a giant dog because they fall in love with it in a movie — we have "Beethoven," we now have "Call of the Wild" — and they don't realize they grow so fast. I try to teach people, a St. Bernard, a Great Dane are a hundred pounds by six months old. They literally gain three to eight pounds a week. Everybody falls in love with this fluff ball St. Bernard puppy, but they're not that way for long at all," she said. "I joke around with people who buy little clothes for their puppy and I'm like, 'That won't fit in a week.' It's about educating people."
Since departing Oklahoma for Ohio on Monday, with 10 dogs to deliver to their new homes and five new rescues to pick up, they have also made stops in West Virginia, Maryland, Pennsylvania, Massachusetts, Maine and New Hampshire in addition to New York. Blue was their second-to-last stop.
They had already picked up two of the four Saint Bernards needing rescue.
This trip was originally scheduled two months ago, she said, but they waited as long as they could as the pandemic escalated. The dogs go with Ms. Synosky and rescue volunteer T.J. Delong to their hotel rooms at night and they are taking precautions by using disinfectant and hand sanitizer and social distancing. They also try to stick to smaller places as much as possible. She said they had masks in their vehicle and wore them in more populous places.
With 22 years of experience working with the ASPCA and as a volunteer with a number of private rescue shelters, Ms. Synosky is now working toward certification to become an animal behaviorist herself. She is currently an obedience trainer.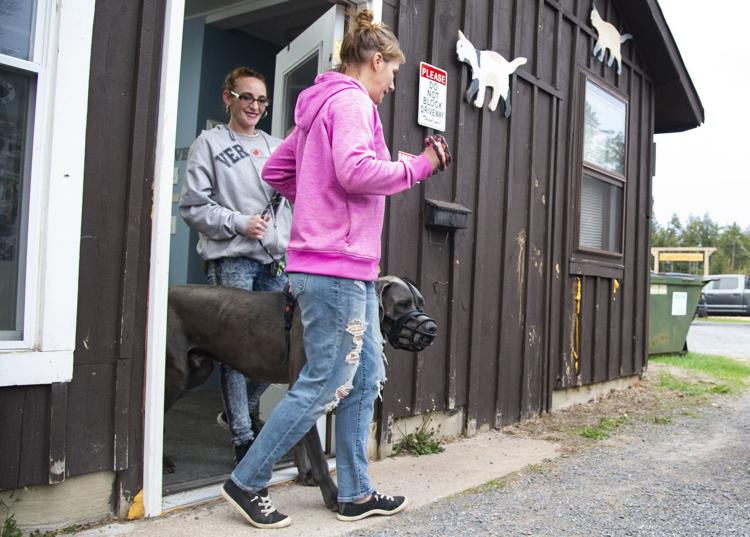 The Humane Society Team helped to get Blue in a harness and into the travel trailer with a bed waiting for him before saying their goodbyes.
"It's a bittersweet moment," Ms. Bidwell said as Blue was driven away, and the shelter staff agreed.
But on Friday night, Blue appeared to already be slightly more social, according to the photos and post on the Saints and Angels Facebook page, relaxed, no muzzle, curled up with Ms. Synosky.
"Blue slept in bed for the first night, last night, and truly enjoyed all the snuggles he could get! We can't wait to see this beautiful boy flourish and find his forever family!"