LANSDOWNE, Ontario — Protestors rallying against building a natural gas pipeline through indigenous land in British Columbia blocked traffic along the Canadian span of the Thousand Islands International Bridge system for three hours on Monday.
Restrictions barring access to the Canadian section of the bridge, as well as traffic entering and exiting Canada, began at noon when demonstrators began their blockade. Ontario Provincial Police blocked access from Highway 401 to the bridge, and New York State Police barred access to the Canadian Port of Entry until about 3 p.m. when the rally subsided, said Todd Kealey, director of communications for the Federal Bridge Corp. The corporation owns the Canadian span of the bridge, while the Thousand Islands Bridge Authority, which provides updates on travel restrictions, owns the U.S. portion.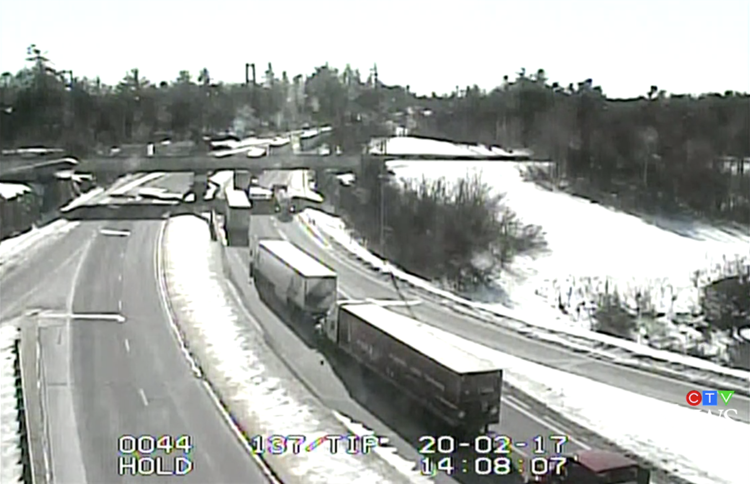 Dozens of activists stood along the bridge to denounce company TC Energy's plan to construct part of the 416-mile Coastal GasLink pipeline through the Wet'suwet'en territory in British Columbia, said Dexter Xurukulasuriya, a protestor from Montreal. They also rallied in support of the Wet'suwet'en people and against Royal Canadian Mounted Police arresting indigenous protestors fighting the pipeline from within the territory earlier this month, which Xurukulasuriya, who learned about the protest while visiting friends in Kingston, called "an invasion."
About 60 to 70 college students, teenagers, senior citizens and other demonstrators, some of whom were indigenous people, gathered in two groups stalling traffic, one that stood on a section of the bridge on mainland Landsdowne, and another that stood on a section of the bridge on Hill Island, Xurukulasuriya said. They encompassed the width of the road, linked arms, held banners reading "No pipeline" and "Shut down Canada," prayed, chanted, drummed and sang indigenous songs, Xurukulasuriya said. As a practicing Buddhist, they also meditated alongside fellow protestors who prayed out loud and in silence.
"(The pipeline) is a symbol of the oil and gas industry's ongoing attack of indigenous people," Xurukulasuriya said. "Canada is a resource extraction project and the rest of it is just window dressing."
Motorists attempting to travel to or from Canada via the Thousand Islands Bridge, or even just to Hill Island, were rerouted to the Ogdensburg-Prescott International Bridge until the protest ended.
The diversion of traffic to Ogdensburg caused backup for two hours between 3 and 5 p.m., said Ryan Simons, an Ogdensburg City Police dispatcher. State police halted travelers seeking to enter Canada at exit 50N on Interstate 81, but Trooper Andrew Guyette said they permitted motorists who were destined for Wellesley Island.
"It was steady, but there were no pileups or traffic jams, by any means," Mr. Guyette said.
Ontario Provincial Police traveled to the bridge and monitored the protesters until they left the bridge after about three hours of demonstration. Officers attempted to communicate with activists on the mainland, but were rejected, said Cynthia Savard, community safety coordinator sergeant with the provincial police. They could not reach the other group on Hill Island.
"It was peaceful. There was no violence," Ms. Savard said. "We can't play a role in the underlying issue ... all we can do is respect that everyone has a right to express themselves."
While some motorists and other people condemned the protest on social media, complaining about the delays it caused, Xurukulasuriya said they and other demonstrators received high-fives and verbal support. They allowed an elderly woman with a heart condition through their blockade, and Xurukulasuriya said when they apologized, she encouraged them and their cause.
"I'd like to apologize to anyone who was inconvenienced who were not responsible for the situation," he said. "I wish it didn't have to happen."
While TC Energy has secured construction agreements with 20 elected band councils to build its $6.2 billion natural gas line, which promises $620 million in contracts to indigenous businesses, a number of chiefs who hold hereditary leadership opposed the project in fear that it will irrevocably alter their land.
Recent protests ignited across the country after Canadian police on Feb. 10 arrested 22 indigenous protestors in Unist'ot'en camp at the Wet'suwet'en territory to enforce a court warrant demanding the removal of activists hindering construction of the pipeline, according to the Guardian. Officers used helicopters, armed officers and dogs during their roundup of activists.
Demonstrators have caused shutdowns for much of the nation's railways, a protest Ms. Savard said has persisted for 12 days as of Monday. The Seaway International Bridge connecting Massena to Cornwall shut down for about 90 minutes on Feb. 7 in a response to a protest.
The pipeline not only harms indigenous people but exacerbates the rising global temperatures fueled by man-made climate change, Xurukulasuriya said. Promises from Prime Minister Justin Trudeau and the Canadian government to fight climate change were "empty," said Xurukulasuriya, given the recent incident at the Unist'ot'en camp and their support for natural gas infrastructure.
Xurukulasuriya said they and fellow activists demand not only the end of the Costal GasLink pipeline, but for Canadian authorities to end their occupation in the Wet'suwet'en territory.
"If anybody touches a hair or even threatens one of our indigenous brothers and sisters, this country will explode," Xurukulasuriya said.