MANNSVILLE — Around 40 people raced in the first fat bike race in Winona Forest five years ago. Since then, the number of participants has nearly tripled, thanks to committed volunteers and president who has worked to transform the once one-dimensional association.
In about a month, volunteers at the Winona Forest Recreation Association will start organizing the 2021 IditaFAT bike race.
But for now, the association can celebrate how far it's come — from 40 to 114 bikers, some racing 50K Saturday morning.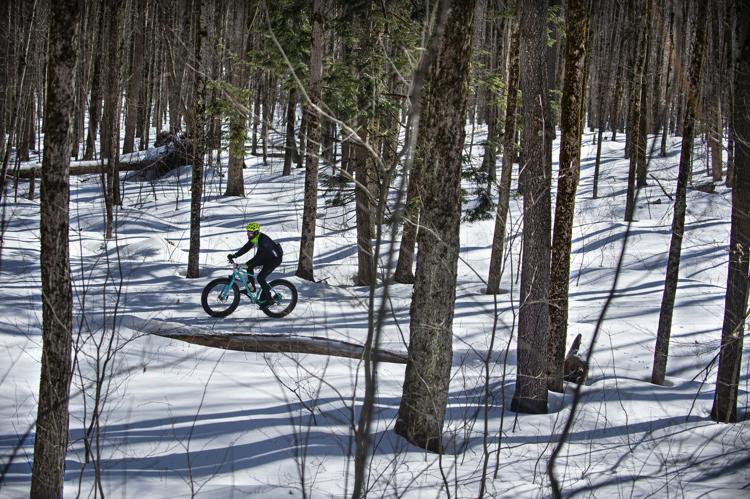 The association maintains around 70 miles of trails in the Winona Forest and Jefferson County Forest Preserve. Matt Westerlund, association president, said it began in the early 1980s primarily as an area to ski. Snowmobiles were introduced shortly after, but that remained the only focuses for some time.
"That was fine except that I think the recourses were very underused," Mr. Westerlund said. "I'm a runner and I'm a biker, and none of those things were represented."
He got involved with the association around 12 years ago and became president around six years ago. In working with the Department of Environmental Conservation, the association began transforming into an area with year-long events. Just in the last month, there's been a dogsled race, a ski race, a snowshoe race and the fat bike race. On Sunday, there's the "SnoFatShu," an event Mr. Westerlund helped create. Like a duathlon, racers — in teams or solo — go back-and-forth between fat biking and snowshoeing.
"It came about sitting at a bar stool having a couple beers," said Mr. Westerlund, director of a snowshoeing event who created the Snofatshu with a friend, who directed and raced in Saturday's IditaFAT. "We were like 'is there a way to put these together?'"
And the trail conditions were great this weekend, thanks in part to the quick snow onslaught and the subsequent packing, but mostly to the volunteers and their grooming equipment, Mr. Westerlund said.
"There isn't a person out there that would say there is a better place in the country than Winona Forest for fat biking," he said. "It's unbelievable."
And the association continues to expand its trails, adding single tracks, extending the event loop, building a bridge. And soon the association hopes to add a pavilion to the recreation area located off County Route 90.
"In a nutshell, it's been a transformation," said Mr. Westerlund, who, along with the rest of the association's officers, is a volunteer. "I'm really proud of what we've made this place."