WATERTOWN — A 90-year-old woman who was choking this week at a local diner set off a string of events that led to her life being saved by an off-duty state trooper and her nearby granddaughter going into labor.
June Wight, a lifelong Watertown resident, was losing consciousness Wednesday morning at Shorty's Place on Coffeen Street as her last bite of blueberry pancake wouldn't go down. Her granddaughter, Emily, was sitting across from her. Emily, who at the time was two weeks from her baby girl's due date, began shouting for help in the diner. Roughly 70 feet away, with his back against the wall facing the entire diner, off-duty state Trooper Joshua Cox started to realize what was going on and sprinted in their direction.
The incident sent the diner into shock and Emily into labor just hours later.
It was shortly after 10:30 a.m. Wednesday morning. Mrs. Wight had an appointment as part of her application to enter Samaritan Summit Village. She likes to treat whoever drives her to appointments to breakfast afterward. On Wednesday, it was Emily. They were planning to go to McDonald's, but Emily's mom and Mrs. Wight's daughter, Melanie, suggested they go to Shorty's.
"It's just good, homemade and local food," Melanie said. "It's a local business we like to support."
Mrs. Wight got her blueberry pancakes and began eating. On the other side of the diner, Trooper Cox and his wife, Jana, were finishing their meal.
After dropping off their kids at school Wednesday morning, they worked out at the Fairgrounds YMCA and celebrated with breakfast at Shorty's. He got the meat-lovers omelet like always, and Jana got pancakes. They were seated at a table in the back corner of the restaurant.
"My wife knows when we go somewhere I have to be able to see what's going on," Trooper Cox said. "I can't have my back to the door."
On the other side, Mrs. Wight's last bite of blueberry pancake was bigger than the rest, but she thought she could get it down.
"Well," Melanie said, "it didn't go down."
Mrs. Wight began struggling, and Emily waited in limbo across the booth, wondering if she was actually choking or if it would just be a quick struggle. Emily asked her grandma if she was OK, and Mrs. Wight indicated she wasn't. Her granddaughter immediately asked the diner if anyone could help. Emily attempted the Heimlich maneuver at nearly nine months pregnant.
Melanie said a few more people came to help, but at that point Mrs. Wight was losing consciousness, turning a faded-blue color and falling to the ground. Nothing was working.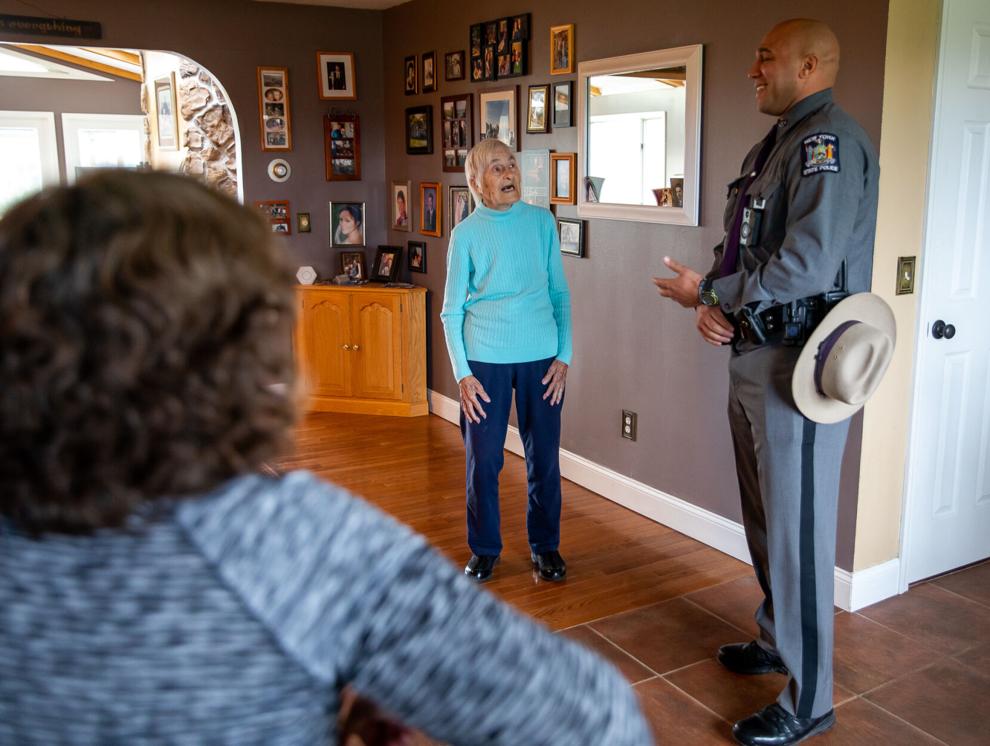 "And then this young trooper came over and took command," Melanie said.
From Trooper Cox's perspective, he saw the shuffle when Mrs. Wight began choking. At the time, he thought a few people were helping her out of the booth. He thought maybe they were getting Mrs. Wight a wheelchair, but then he saw the panic as he continued to watch.
He sprinted down the aisle, past several customers and to Mrs. Wight's booth. They told him she was choking, but he wanted to make sure. Doing the Heimlich maneuver or back strokes could be harmful to her if she wasn't choking.
Trooper Cox got closer to Mrs. Wight and saw she was turning more blue and not responding. He took her from someone holding her and did the Heimlich — which he is trained and knows how to do — for the first time since he became a trooper nearly seven years ago.
He did a few thrusts but nothing changed. Mrs. Wight was on the ground at this point, so Trooper Cox open-hand slapped her in the back a few times. Nothing changed, so he went back to the Heimlich. He did the circuit a few times and was checking her consciousness between each move. After a few more attempts — all eyes are on the situation — Trooper Cox did the Heimlich again. He saw some color coming back to Mrs. Wight. Then he saw some food on the ground.
"Without saying anything, she slowly turned to me and said 'Woo, I thought I took my last breath,'" Trooper Cox said. "And I said 'Not today, honey.'"
Mrs. Wight was gaining strength as Trooper Cox sat her down and stayed with her until EMS personnel arrived on scene. He spoke with EMS about what happened, then got out of the way with his wife.
Melanie was at work when she got the call about what happened. She drove to Shorty's and saw her mom getting into the ambulance.
"My mom said, 'Oh I have to make a grand entrance,' as she was getting into the ambulance," Melanie said with a laugh.
Melanie then went inside to see what happened. Trooper Cox was in the background of the scene with his wife when Melanie said she thought her mother was going to have a heart attack.
"He and his wife were just kind of standing there," Melanie said. "They didn't say anything. I said out loud that I thought my mom was going to die, and he said, 'Not today,' and then they just turned and walked away."
Melanie said if it wasn't for Trooper Cox, the situation would have gone much differently and her mother might not be here. Mrs. Wight was taken to Samaritan Medical Center for evaluation. She had a few bruised ribs but was largely OK, all things considered.
"Today I actually do feel like I'm 90," Mrs. Wight said. "Two weeks ago I felt like I was 38."
Everyone went their separate ways, but Emily was about to go into labor. She was heading to the hospital at 4 a.m. the next morning, despite her doctor telling her a day before the choking incident that she was likely on schedule to have her baby in two weeks.
"It definitely shocked her into labor," Melanie said.
In less than a day, Mrs. Wight was saved from choking and her great-granddaughter, Chirsta, was delivered safely.
"I don't know what would have happened if he (Trooper Cox) wasn't there," Melanie said. "My mom could have had a heart attack like I was afraid of. You hear of a death and a birth and the fact that my daughter is going to give birth. I thought 'No this can't be the death that goes with the birth.' It was very frightening, so if he hadn't been there, we definitely know that things might have been much different."
Trooper Cox said he strives to help whether he is on or off duty. He likes to joke that his wife gets upset with him if they drive in a snowstorm. It takes them hours to get home because he stops to pull people out of ditches.
"I've got two young boys and I try to lead by example," he said. "I know if it was my wife off into a ditch or choking, I would hope someone would help my family or someone in need."