TURIN — Classic cars, tractors, fire trucks and snow groomers drove along Main Street with American flags for the second annual Fourth of July parade.
Families and friends sat outside their homes, waved and cheered at about 40 vehicles and groups of people from local organizations. They started near the Oneida-Lewis Chapter of Arc office and finished at the South Lewis Central High School, some throwing candy to spectators as the passed.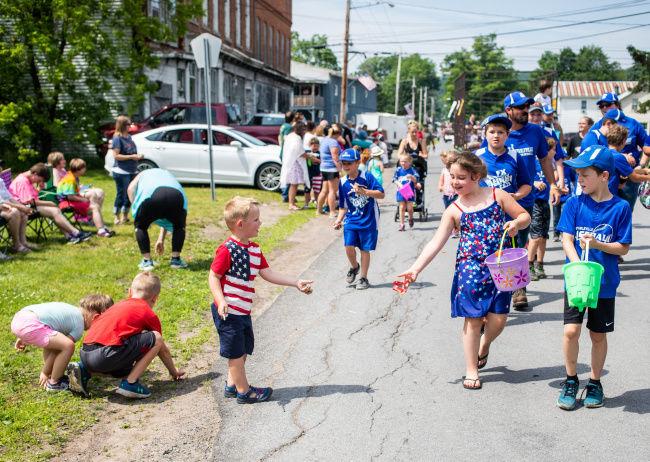 Timothy Mahar, Turin, drove his 1955 John Deere 70 tractor in the cavalcade, and a procession of classic vehicles followed. His in-laws, Edward and Eva Mae Swiernik, drove behind him in a blue 1931 Ford, with Mrs. Swiernik tossing her well-known molasses cookies to spectators.
"It's just good to see everyone out participating, waving at everyone, having a good time," Mr. Mahar said.
A half-dozen volunteers, including Mayor Joshua P. Leviker, organized the parade and festivities that followed at the park, such as chicken barbecue and games.
Mr. Leviker said the group wanted to provide a fun, family-friendly event for residents on the holiday, which prompted them to host their first parade last year. The mayor said he has seen historic photos of Independence Day celebrations in the village that drew about a hundred attendees, and he wanted to bring back more engagement in the community.
This year's parade experienced an uptick in both participants and viewers from its inaugural year last year, Mr. Leviker said.
"I think it helps pique interest and put a little life back into the village," he said.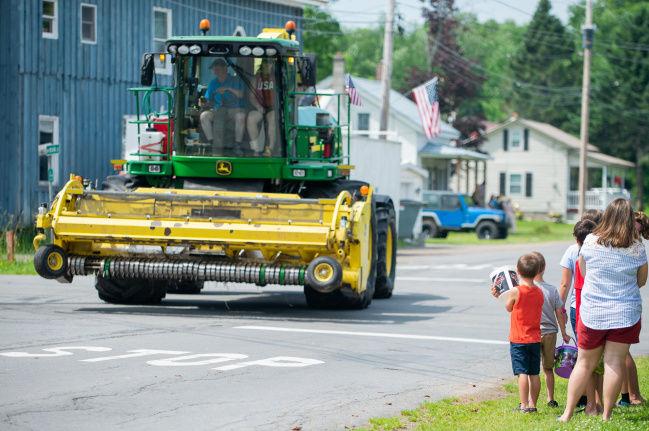 The parade garnered participation from several organizations, such as the Turin Ridge Riders, the B. Elizabeth Strong Memorial Library, Christian Community Center, Turin Methodist Church and a couple of little league teams, and local businesses, including Cummings Farms, West Wind Trucking, BM Ward Builders and Timberview Resort.
Pam Spicer and her mother, Marilyn, watched the parade on Thursday and last year. They said they enjoyed seeing the community come together and support the village.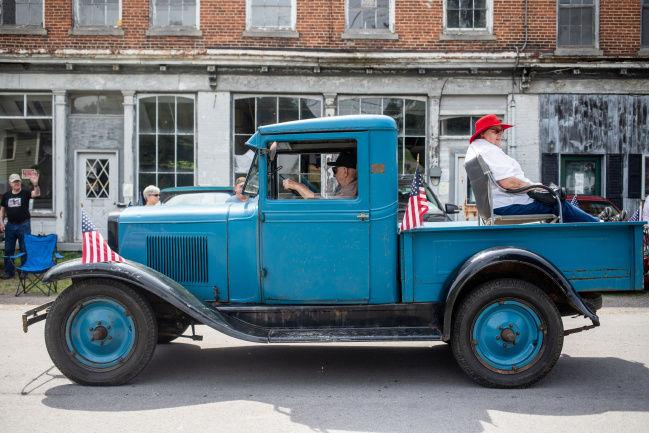 Bernie Ward, Constableville, attended the parade with his family and watched as his son, Mitchell, drive a concrete pump truck from his business, Mitchell's Concrete Pumping.
"It's a good parade. Josh (Leviker) did a good job putting this thing, especially for a small community," he said.
While neighbors and friends enjoyed their festive parade, hundreds of cars and campers gathered down the road at the moe.down music festival at the Snow Ridge Ski Resort, which kicked off Thursday. The event features a 16-band lineup of seasoned and up-and-coming artists.