WATERTOWN — Jimmy Swaggart is the focal point of the tenant's paintings, signs and damage, so the landlord — desperate — decided to have the evangelist's ministry call the tenant to say the TV pastor wouldn't appreciate what he was doing.
A landlord giving up on calling the police or evicting his tenant, and instead calling the ministry his tenant is seemingly enamored with, underscores how this case is more complicated than a vandal looking to cause destruction and might equally be about a person in need of help.
A tenant in Watertown has been moving from apartment to apartment for years, leaving behind biblical quotes, names and phone numbers painted on almost every wall, as well as extensive damage to the units. His landlords can almost overlook the paintings, as it appears to be a result of a mental issue that might need supervision. Walls can be repainted, but the broken appliances, ruined floors, broken windows and unhinged doors cross a line, they said.
Now, city police have again opened an investigation into damage allegedly left behind by the tenant.
Mark R. Stewart, 61, is a fixture in the Watertown community who is known by many as a fan of Jimmy Swaggart, a pastor in Baton Rouge, La., whose ministry TV show was popular in the 1970s before he was defrocked by the Assemblies of God for a sex scandal involving prostitutes in 1988.
Mr. Stewart has long been interested in Mr. Swaggart, and now he's forbidden from the ministry's property. In 2013, Mr. Stewart was arrested in Baton Rouge and charged with entering and remaining at Mr. Swaggart's ministry campus after having been banned from the property.
Shortly after that, Mr. Stewart was extradited back to Jefferson County for allegedly damaging an apartment on Washington Street. He pleaded guilty in 2014 to a felony attempted criminal mischief count, admitting he caused more than $5,000 in damage to the property after having covered the walls of the apartment with biblical quotes and damaged a radiator, stove and other appliances.
He was sentenced in that matter to five years of probation and ordered to pay $500 to the property owner and $26,177 to the property owner's insurance carrier in the form of a civil judgment.
Years earlier, in 2009, Mr. Stewart was sentenced to three years of probation and ordered to pay $5,800 in restitution after damaging an apartment on LeRay Street.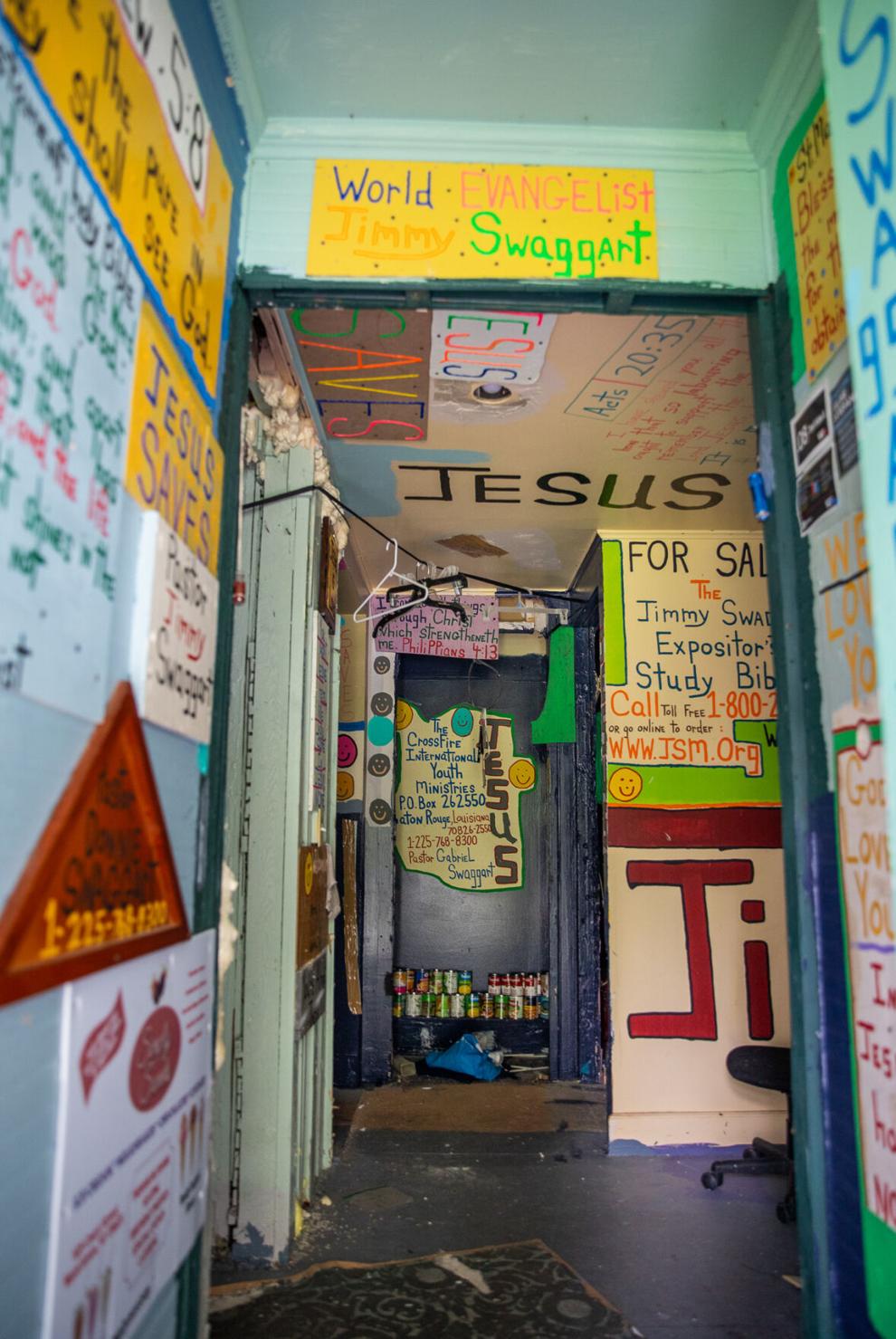 After he left the apartment on Washington Street, it appears Mr. Stewart moved to an apartment at 1014 State St.
The landlord, Sean Brett, said Mr. Stewart had been referred to live there from Transitional Living Services of Northern New York, which offers adult services to residents of Jefferson and Lewis counties who have a serious mental illness.
When Mr. Stewart first moved in, Mr. Brett said he never heard much from him. He said it was in the last two years that Mr. Stewart began placing biblical signs outside his apartment.
Mr. Brett doesn't know when, since Mr. Stewart rarely let him inside his apartment, but the paintings began and continued on almost every wall. Extensive damage followed.
"The last year he was there was hell, and then COVID-19 came up where you couldn't evict anyone," Mr. Brett said. "When you have somebody literally ripping your cabinets and your doors out and painting on your siding and painting your windows, that's a whole different ballgame."
Mr. Stewart is believed to be knowledgeable about what he can get away with. Police and evictions wouldn't work, so Mr. Brett decided to call Jimmy Swaggart's church.
"We did have his pastor call Mark and tell him that Jimmy wouldn't appreciate what he's doing," Mr. Brett said. "I was trying everything."
Between the damage in and around Mr. Stewart's apartment, and the hot-water heater malfunctioning, it just wasn't worth it. Eventually, Mr. Brett allowed the building to be condemned.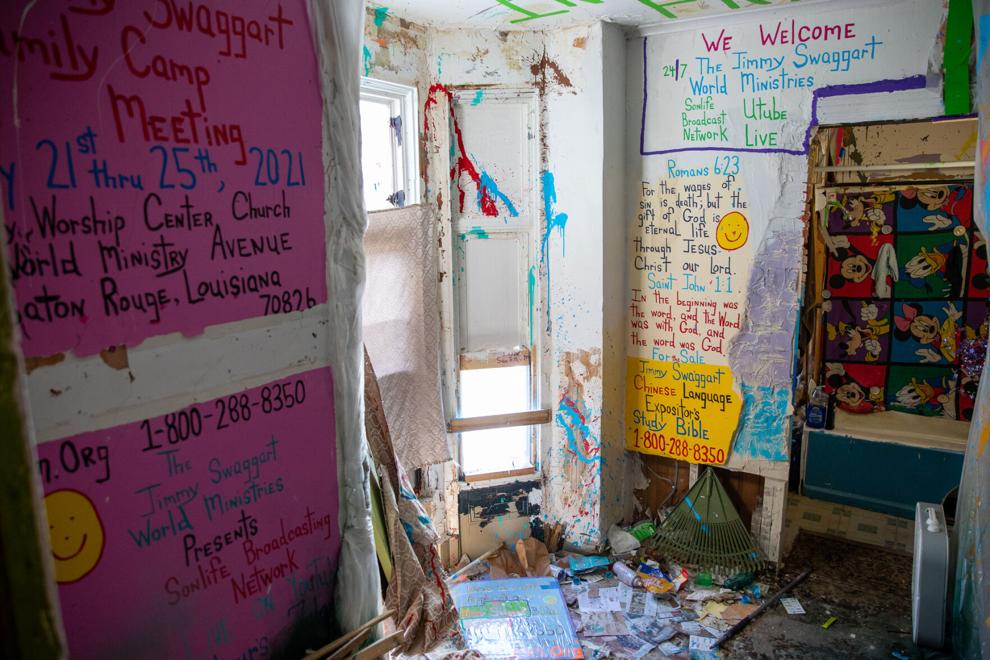 By October 2020, Mr. Stewart left, and moved on to an apartment on South Massey Street, owned by Cardmen Gee.
Cardmen Gee's second-floor apartment has a winding staircase. Halfway up the stairs is a new, painted sign that states "Welcome Watertown Police Department" in blue paint. Mr. Stewart had lived there for roughly the last nine months, and the paintings had bled out into the hallway. There was no more room in his apartment on the walls. The fully furnished apartment — which Mr. Gee offers to soldiers — was turned into what looked like a construction site. A plastic tarp was hung in a hallway. The door to the refrigerator was ripped off. A smiley face was left on the floor made of charcoal medallions. The bathtub was broken, as well as the chimney. The paintings mainly consisted of what appear to be posters for Mr. Swaggart's ministries, with phone numbers and addresses at the bottom.
"You see, he would work in the middle of the night," Mr. Gee said. "My lights would go off and from that point on, he knew he was more or less safe."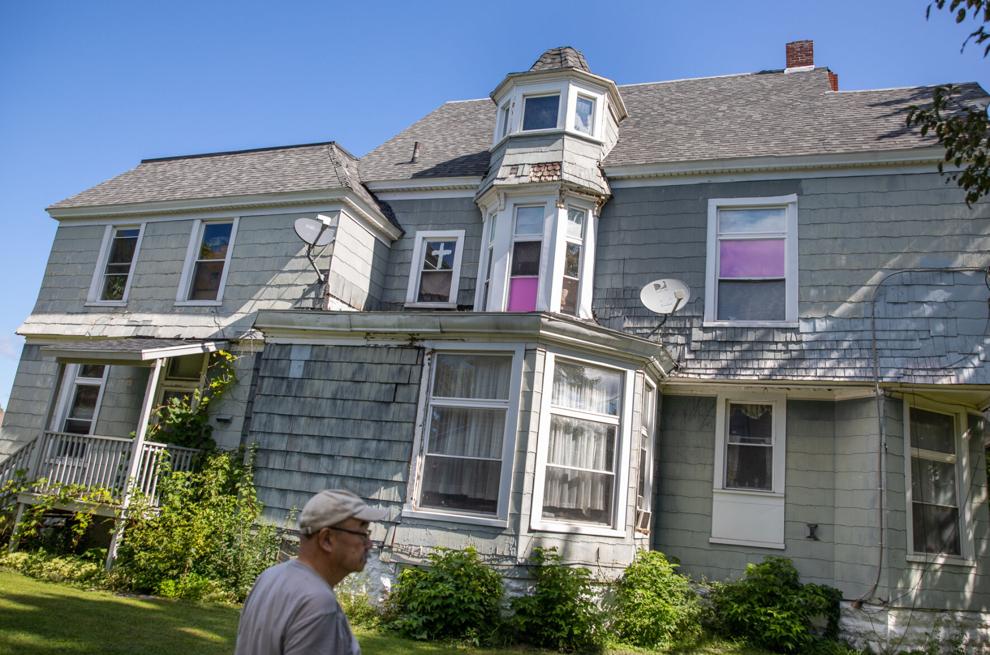 City police have opened a criminal investigation involving criminal mischief and larceny from Mr. Gee's apartment building at 310 S. Massey St. Mr. Stewart was a former tenant, and he is a person of interest, according to city police.
Just like at the State Street apartment, Mr. Stewart was referred to Mr. Gee by Transitional Living Services. Mr. Gee said officials with the agency told him Mr. Stewart was a little bit younger than him, didn't party and kept to himself. That could have been true at the time, but other attributes clearly began to take hold.
"My ex-wife worked for Transitional Living," Mr. Gee said. "The clients I saw from her were troubled kids. I didn't know I had a 60-year-old troubled kid up there."
By March, Mr. Gee said, he told Mr. Stewart to stop and he called Transitional Living. They tried to speak with Mr. Stewart, but he rarely let people in his apartment. Like he has been accused of doing in the past, Mr. Stewart replaced the locks about a month after he first moved in. Eventually, Mr. Gee said Transitional Living dropped Mr. Stewart's case because he wasn't following their guidelines. Officials with Transitional Living did not respond to a request to participate in this story.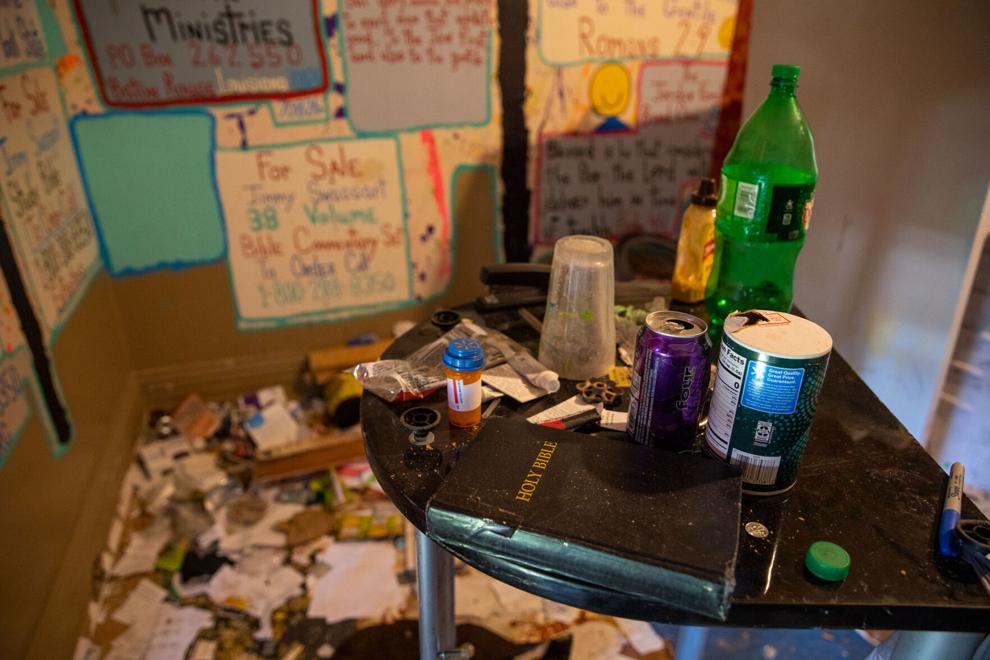 "I felt the Transitional Living meant something else," Mr. Gee said. "My eyes are open to what they are right now. I'm not mad at them or anything, but on the other hand, I didn't realize they had this other half that was something else."
Mr. Gee said he didn't know of Mr. Stewart's history, but he would end up breaking their lease in July. He said Mr. Stewart is supposed to be out of the apartment by Wednesday, but Mr. Gee hasn't seen him for nearly a month.
"All of that damage didn't have to happen," Mr. Gee said. "I never locked my apartment for the past 20 years until now. I would be fearful of his retaliation, and this is a hard time for landlords because if he should get into some other place, it's extremely hard to throw him out."
It's unclear where Mr. Stewart is now. Mr. Gee and people who know Mr. Stewart said he told people he was again heading to Louisiana.