CLAYTON — Appropriately, a couple of dogs acted as the spark that led to the creation of a 270-acre expanse on Clayton Center Road that has developed into an esteemed training facility for hunting dogs and their owners.
Webfoot Outdoors and Rimrock Kennels is co-owned by Mark R. Gawron and his wife, Martha Ann Imperato. On Monday, two days after a bustling seminar at the facility taught by a nationally recognized trainer from Crozier, Va., that attracted about 30 people and their dogs from as far away as Ohio and Quebec, the couple paused for a bit from their chores to talk about the facility and its success.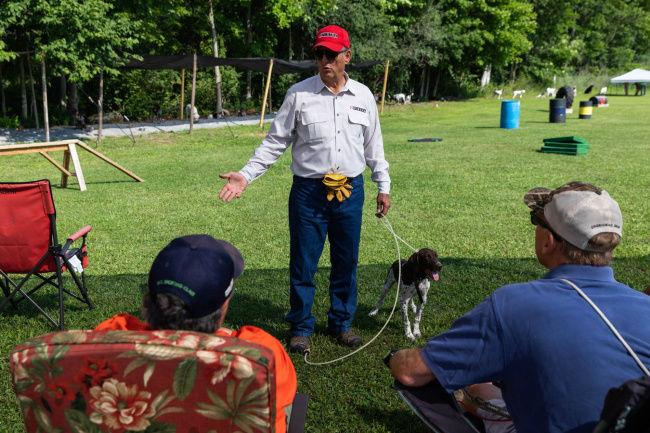 Mr. Gawron, 56, recalled the day he met his wife. It was February 2006 at an outdoor show in Springfield, Mass.
At the time, Mr. Gawron operated Webfoot Guide Service here in the north country and was at the show selling duck hunts for around New York state.
"Martha walked up with two shorthairs and here we are — with four shorthairs and a bird dog training facility," Mr. Gawron said.
The "shorthairs" are German shorthair pointers, described by the American Kennel Club as "an enthusiastic gun dog of all trades who thrives on vigorous exercise, positive training and a lot of love."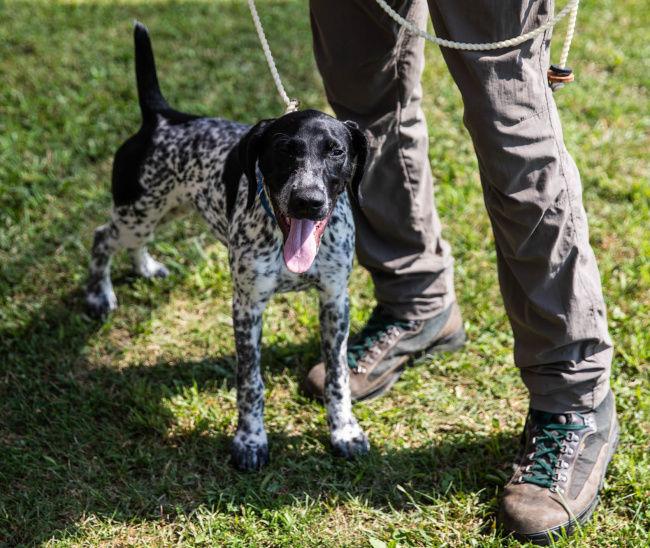 "My father always talked about German shorthair pointers," Mr. Gawron said. "We always had labs when we were growing up, but he had one and he loved that dog."
Mr. Gawron's father, Daniel, who died in 2005, also instilled a love of the outdoors in his children. Mr. Gawron said that love of the outdoors has taught him important life lessons. He is a 34-year retired veteran of the Army, having served at several locations around the world, including a four-year teaching assignment at the U.S. Military Academy at West Point and six years as a leader of a counter drug interdiction team. He retired as a master sergeant when based at Fort Drum.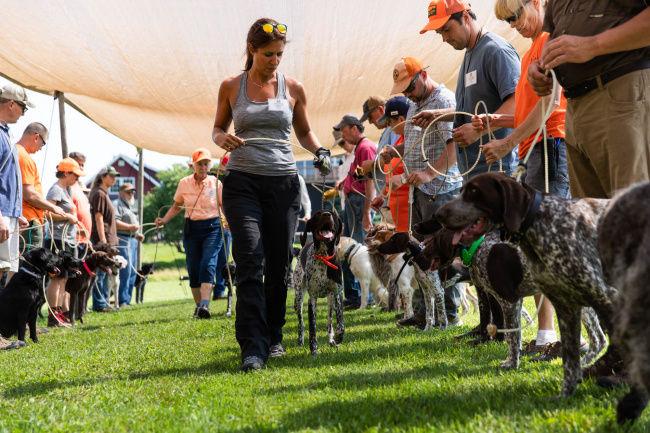 "My father wasn't a joke," said Mr. Gawron, who grew up in Hamburg, Erie County. "If you didn't do it right, you weren't going to do it. And when you were around firearms, you had to be respectful. You had to be safe."
Hunting trips they took to the Northern Territories in Canada weren't taken for granted.
"I knew if I screwed up, if I didn't do good in school, or got involved in drugs or anything like that, all of that would have been gone," Mr. Gawron said. "That taught me responsibility; how you're supposed to act."
Ms. Imperato, a retired veterinary technician, grew up in Pine Plains in the Hudson Valley in a family that also counted hunting as part of its heritage.
"When I was raised, a lot of what I did with my brothers and my uncles was oriented around hunting," Ms. Imperato said. "You learn, like Mark said, respect and a lot about an individual when you're out in nature."
She has also bred, raised and trained five generations of German shorthair pointers.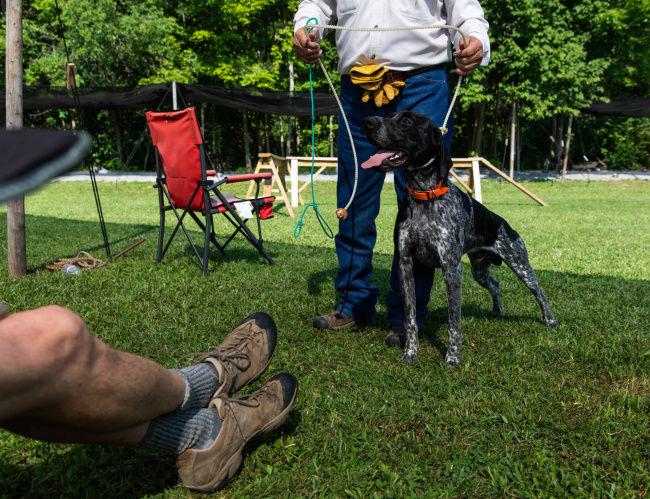 "Watching dogs work, something that you trained and were able to put your energy into something you're so passionate about is pretty incredible," Ms. Imperato said.
"They're not just pets to us," Mr. Gawron said of the dogs the couple own. "They're members of our family, but also a member of our team and our legacy. They're our entire lives because we breed them, train them and take them out and watch them do what they love and were bred to do. If we get a bird, that's great. But if we don't, that's fine too, as long as the dogs get to do what they enjoy."
Ms. Imperato's Rimrock Kennels and Mr. Gawron's Webfoot Guide Service merged in 2010.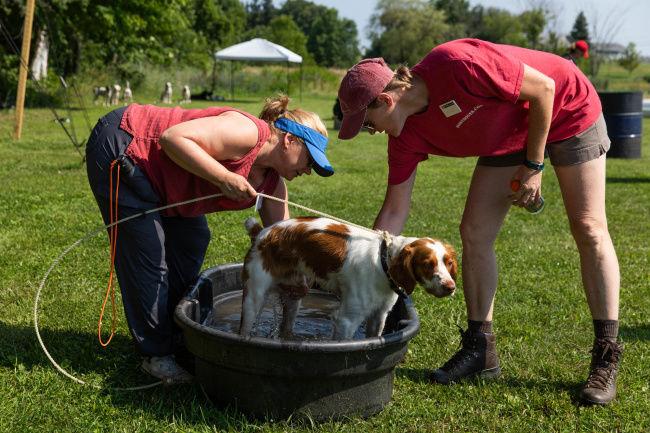 The vast fields of Webfoot Outdoors, on both sides of Clayton Center Road, are used to train dogs in tracking and catching a variety of fowl, including quail, pheasants, geese and ducks. There's also a training pond and a "confidence course."
The course contains man-made items that dogs can climb, balance upon and weave through. Near the pond, there's a platform where dogs can sit and wait — simulating a pile of timber or perhaps a muskrat hut in the marsh and what would be the only place for a dog to sit.
"What we find is that when we take them to the field, nothing bothers them anymore," Mr. Gawron said as he walked along the course. "When they hit a log in the water or a thicket they have to go through, they just go. It's problem solving."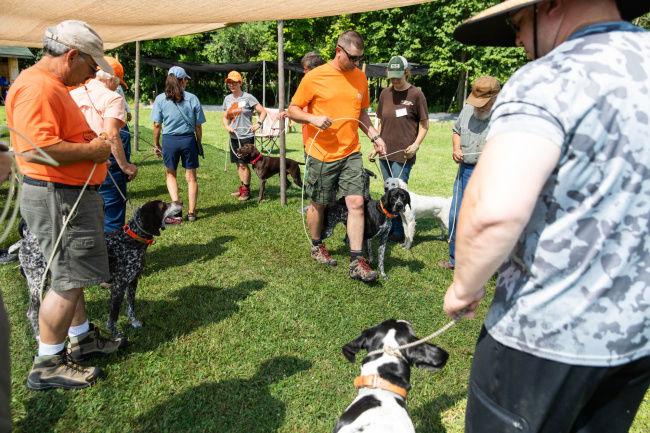 As dogs are trained on the course, others can wait and watch the action in a shaded "chain gang" area.
"It also teaches them the respect that we deserve as the handler," Mr. Gawron said. "You walk up to the dog and the dog will either sit or stand. They stand perfectly still, so when you unhook them from the chain they're not like wild animals running around. When you, as a handler, comes home, not only do you have that dog in the field hunting, but you also have that dog in your home. You want that dog to act like a good citizen."
The "Smith Method of Training" is well known in the world of flushing and pointing breeds of dogs. It was developed by renowned professional bird dog trainer and Field Trial Hall of Fame member Delmar Smith, 92, of Oklahoma and author of "Best Way to Train Your Gun Dog: The Delmar Smith Method."
He has been called the innovator of the modern dog-training seminar by Field & Stream magazine.
Several members of Delmar's family are carrying on his expertise, including Rick Smith, Delmar's son, who hosted the recent seminar at Webfoot Outdoors. His July visit was his fifth to the facility. He has taught seminars across the country and from Australia to Canada. He will return Oct. 11 to Webfoot to teach an advanced seminar.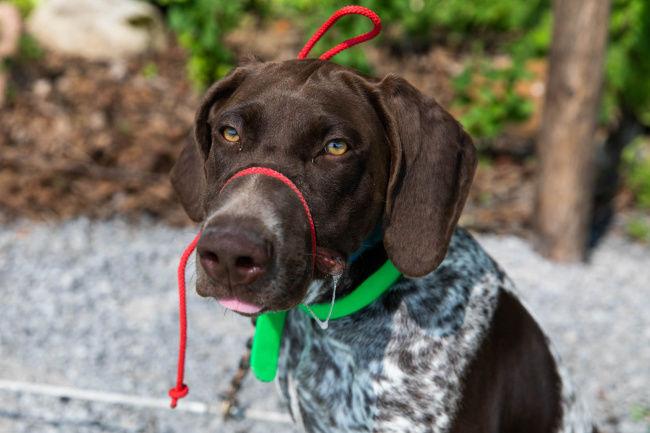 The July seminar, Mr. Smith said, was designed for hunters and their dogs to prepare for competitions hosted by organizations such as the North American Versatile Hunting Dog Association, National Shoot to Retrieve Association or for "people just sick of their dogs being out of control."
Mr. Smith's seminar focused on his "Silent Command System."
"If you show them what you want them to do and repeat it without saying it, they'll pick up on it a lot easier," Mr. Smith said. "People think they (dogs) need to know the English language."
It's also important to show commands without anger, Mr. Smith said.
"If you keep your mouth shut, it's easier to keep your frustrations down," he said. "Just keep showing them what you want them to do, whether that's to sit, be steady, whether to go with you or come to you, or bring something to you or whatever."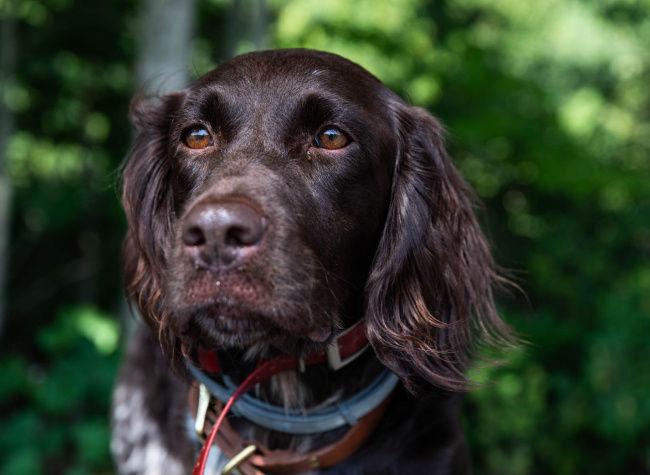 Naming the item involved in training is the last step, Mr. Smith said.
"When you name it, when they're not resisting you, you get a lot better connection," he said.
Throughout his trainings, Mr. Smith said he shares the need to be at the dog's level.
"I don't say that as getting down to their level," he said. "We're going to get up to their level because these dogs are a lot smarter than what we give them credit for and they're a lot more capable of what we give them credit for."
It's also important to teach the dogs to be overall "good citizens," Mr. Smith said.
"They have to do more than hunt," he said. "The really heavy hunters hunt three months and still have to have them around for nine months. Very few hunting dogs nowadays stay in the kennel. They usually live in the house. If they're wrecking the house or running over the Mrs. or the kids and tearing up stuff, they're not going to be able to stay there. So having manners and boundaries is very important for today's hunting dog."
The primary focus of Webfoot Outdoors and Rimrock Kennels is to breed and train bird dogs. It also boards dogs and on the last Monday in July, the kennel, of 12 indoor/outdoor runs, was full with breeds ranging from a wiredhaired pointing griffon to a dachshund.
Guided hunting trips are also part of the business. Mr. Gawron brings his guests on day hunts to areas ranging from the Adirondacks to Chaumont Bay for waterfowl and upland bird hunting opportunities.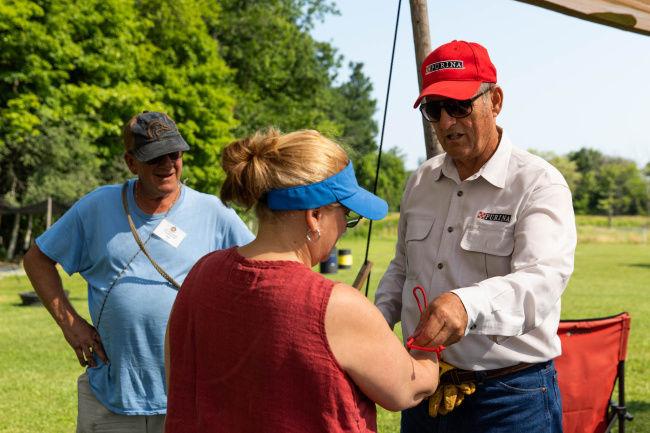 "People can come for multiple days, but we come back here," he said.
Mr. Smith said he always leaves impressed with the operation of Webfoot Outdoors and Rimrock Kennels.
"The more you visit with Mark and Martha, the more you realize these are top-shelf people," he said. "They're people you want to call your friends and spend time around, not to mention that they're good dog trainers and they understand dogs."