For more than a decade, Andrew Greene, Stephanie Weiss and their two sons feared their faucet. Widespread salt contamination afflicted hundreds of residents near their Fisher's Landing home.
With the bad water widely blamed on the state Department of Transportation salt storage facility on Route 12, it's taken years of complaints, legal action and millions of dollars to build infrastructure necessary for the owners of 500 properties to trust their drinking water. In the meantime, residents spent thousands of dollars on drinking water, and to replace appliances and utensils that corroded.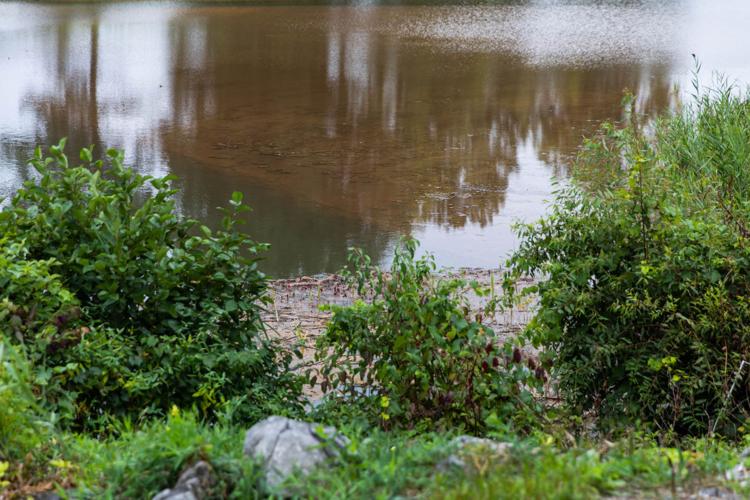 Officials fought for years to secure enough funding to afford what would become a $15.4 million project to serve properties on Route 12, Collins Landing, Fishers Landing, Seaway Avenue, Arcadia Park Road, Farrell Drive and Reed Point, Clayton. The Orleans Town Council began the effort in 2012. The project is expected to be completed next year.
Infrastructure is a buzzword in local, state and federal government circles. Roads, bridges, sewer and water lines and internet connections in rural areas are either aging, or still not completed. The Watertown Daily Times and WPBS have collaborated again for this edition of More to the Story, to ask where infrastructure stands in the north country.
Maintenance and construction of municipal assets, like the Orleans water line, are critical to provide essential services to north country residents and businesses. Health, safety, transportation and quality of life overall are all dependent on the ability of local and state governments to meet the growing and changing need.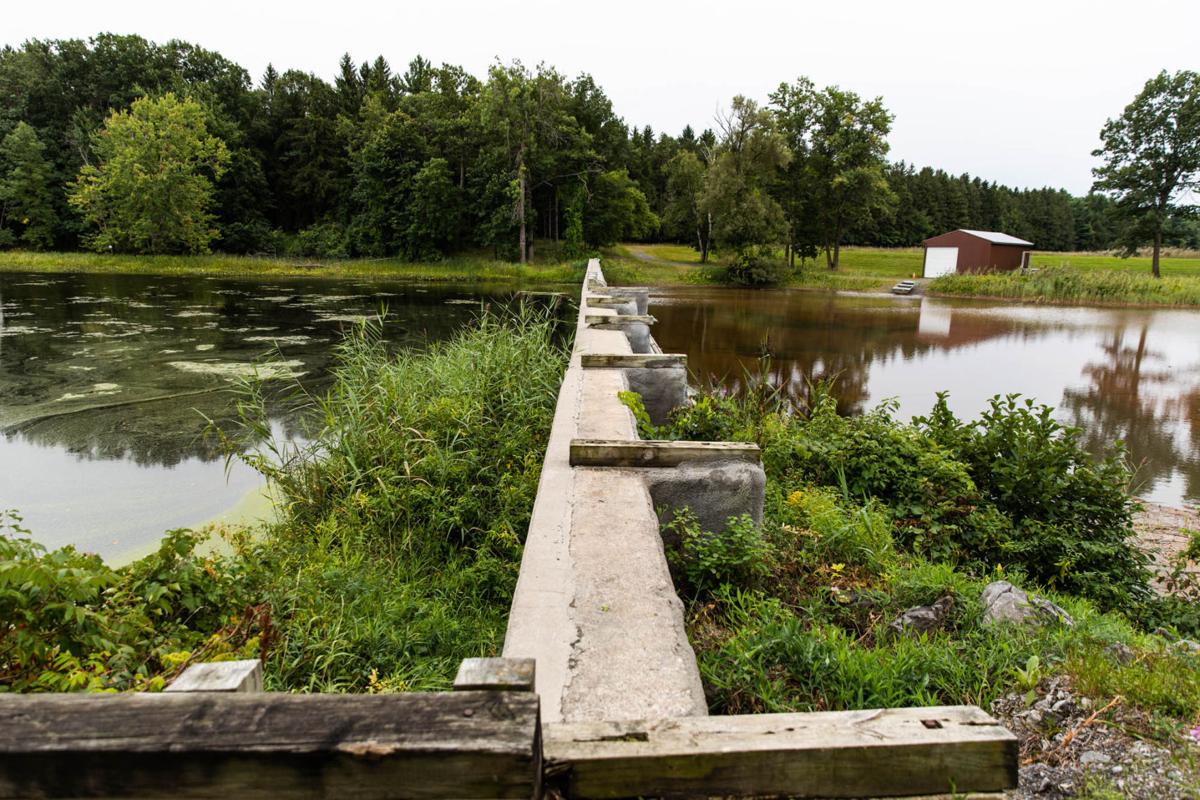 Yet several water and sewer systems across the north country and beyond are decades old, if not almost a century, risking malfunctions that require more frequent maintenance. Many roads have been scarred with cracks, potholes and other blemishes.
In its most recent report from 2015, the New York Council of the American Society of Civil Engineers gave New York's overall infrastructure from Long Island to Massena a "C-" grade, reflective of its aging, deteriorating assets and what the group considers a lack of funding and priority. It ranks higher than the "D" grade it issued for the entire country, but still calls for a need to invest more than $100 billion across all types of infrastructure in the state over the next 20 years.
"The Report Card shows that our infrastructure is only as good as the weakest links and that we have a lot of areas that need improvement," wrote Bud Griffis, New York report card committee chair, in a statement accompanying the report. Remedying the issues described in the report would require billions of dollars.
Lawmakers, including President Donald J. Trump, Sen. Charles E. Schumer, D-N.Y., and Gov. Andrew M. Cuomo, have called for funding and efforts to improve infrastructure across the state and nation. The governor announced in June of last year a $150 billion investment into capital projects that bolster the state's infrastructure over the next five years, building off of the previous $100 billion plan.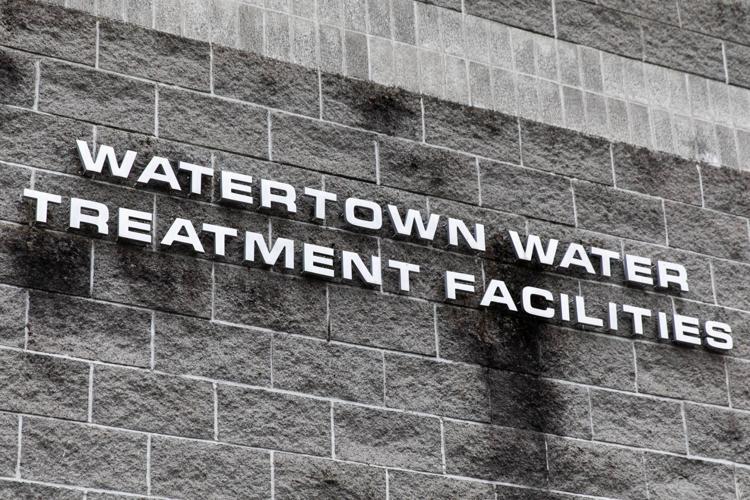 Several towns and villages, including the villages of Clayton and Potsdam, have invested millions of dollars toward maintaining their water and wastewater systems, ensuring residents can still enjoy drinkable water and transport wastewater without polluting nearby lakes and rivers. Some municipalities have also been expanding their existing water and sewer systems to serve more customers, while also hoping to fuel economic development.
The towns of Clayton, Orleans and Alexandria are building a water district along Route 12 to better serve residents and attract business along the corridor. Orleans Town Supervisor Kevin C. Rarick said he hopes installing the new water line on Route 12 will help bolster his town's economy, although the main driver has always been to help his residents living on contaminated groundwater.
"It's neat when somebody says they can take a shower without feeling dirty afterward," Mr. Rarick said.
Plants and pipes across the region have deteriorated with the age, which can result in issues and higher maintenance costs.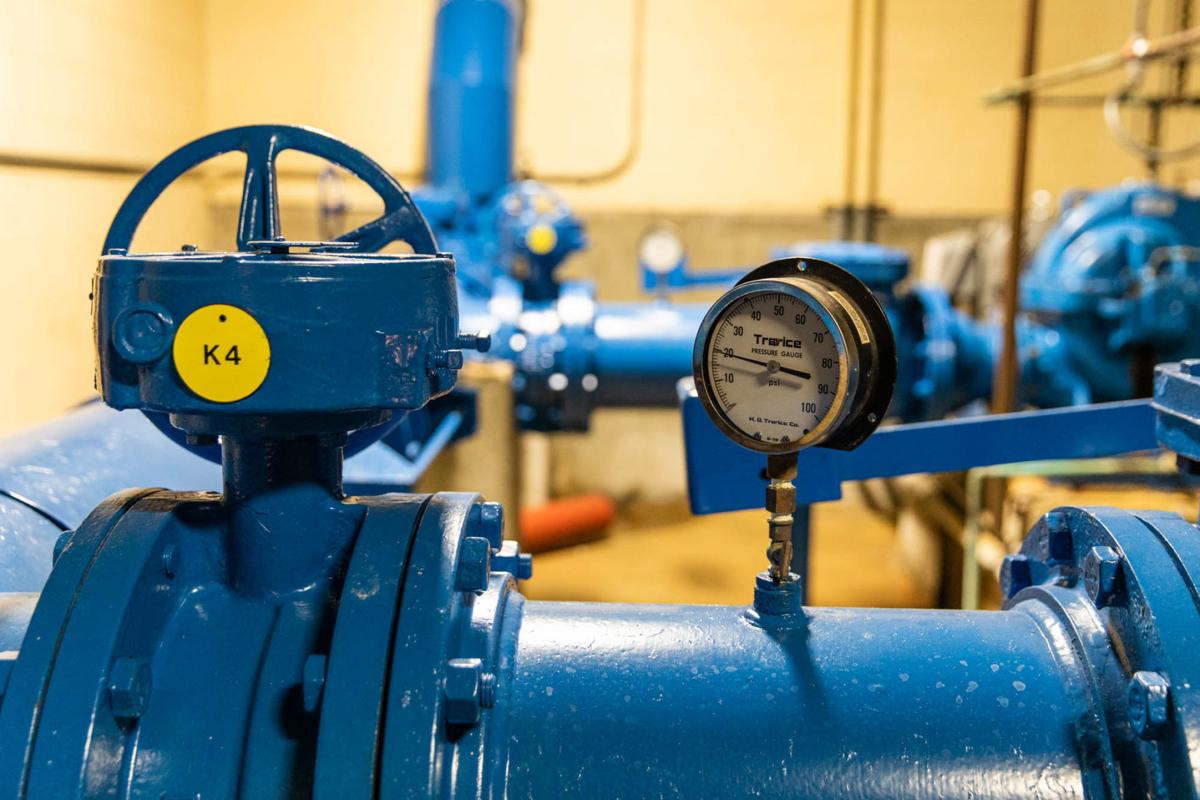 According to the engineering report, which issued a "C" grade for water infrastructure, 95 percent of requests for infrastructure improvement funding through the Drinking Water State Revolving Fund program were rejected as of 2015. Fixing, replacing and improving water systems across the state is expected to cost $38.7 billion over a 20-year-period. Wastewater systems in the state received a "D" grade, in its 2015 report, with 25 percent of facilities across the state exceeding their 30-year lifespan. The village of Clayton's old, deficient sewer system fails to prevent untreated wastewater from discharging from the pump station on Riverside Drive into the St. Lawrence River during periods of heavy rainfall. The village plans to invest an estimated $8.83 million to more than double its capacity with upgrades to the treatment plant. Construction begins in the summer of 2020.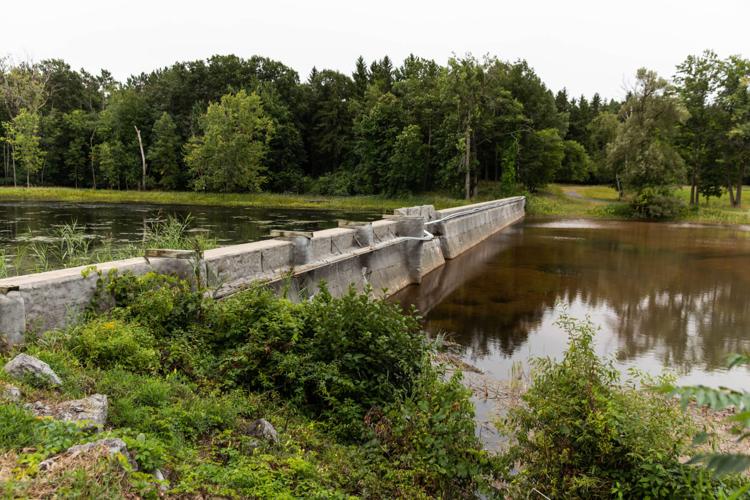 The city of Ogdensburg is working toward rehabilitating its aging wastewater treatment plant, which the state Department of Environmental Conservation has ordered for several years under the threat of hefty fines. Jett Industries of Colliersville was awarded a $35.9 million contract.
James W. Wright, executive director of the Development Authority of the North Country, said many water and sewer systems were installed in the 1960s and '70s when the federal government adopted the Clean Water Act.
Municipal facilities last for 40 years on average, but several systems across the north country have exceeded that. Their age and deficiencies make them more susceptible to compliance issues with the Environmental Protection Agency and, therefore, fines.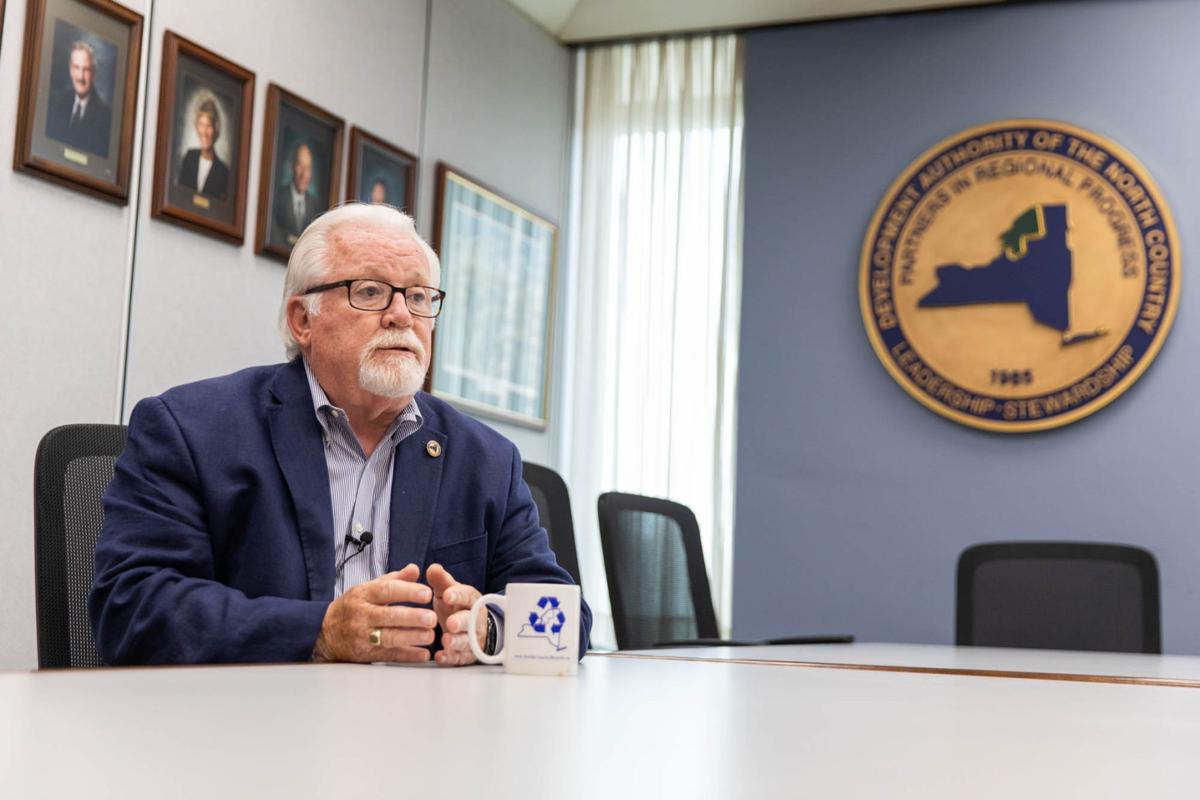 "The problem with the old infrastructure is it's expensive to maintain and it doesn't do the job it was intended to," Mr. Wright said. "If you're treating water, you may not be treating it to the level that is required by the standard, so you put your residents at risk. To maintain those levels and keep the plant functioning will require a significant investment in old technology, so you're not going to have much of a return there."
The development authority for years has provided municipalities assistance with water and sewer systems by offering to manage them, and provide technical assistance, worker training and identify grant opportunities. Mr. Wright said the authority has contracts with more than 30 municipalities, including Clayton, Ogdensburg, Carthage and Malone. The authority also manages its own water and sewer systems. It maintains a water line and sewer line that connects users in Fort Drum, Champion, LeRay and Pamelia to facilities in Watertown and its Western Regional Water Line that serves several towns and villages from Cape Vincent to Glen Park.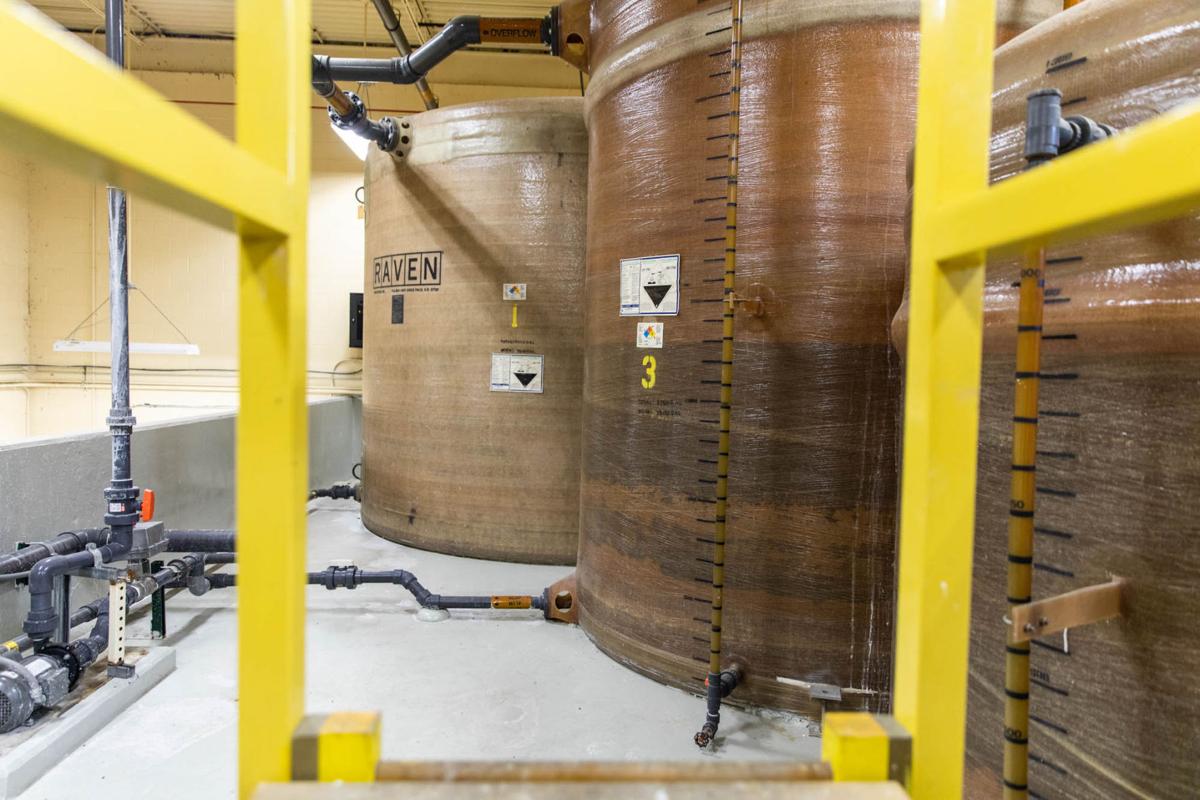 "Well, it's critical, first of all, to the residents who rely on it on a daily basis from a health and safety standpoint," Mr. Wright said. "Secondly, the adequacy of infrastructure is critical to your ability to attract or retain new and existing businesses."
State and federal agencies including the state Environmental Facilities Corp., the Environmental Protection Agency and the U.S. Department of Agriculture, have provided various grant and loan opportunities for municipalities to improve their water and sewer facilities, although funds for them are limited. Mr. Rarick and other Orleans town officials spent years scraping together funds for their water line, and he said he wished more funds were readily available.
Regular maintenance can also be financially taxing on towns and villages, Mr. Rarick said, and he advised other towns to ensure their water and sewer rates remain current.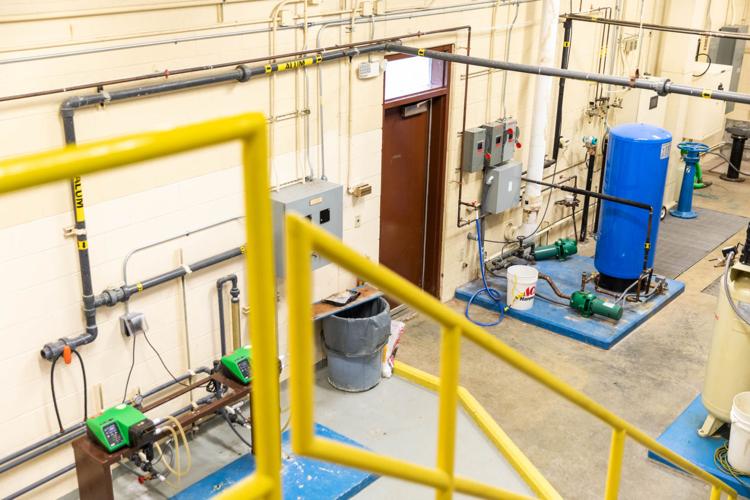 "The ones who don't adjust their rates for years are the ones that get into trouble," he said. The village of Potsdam recently finished its $17 million upgrade to its wastewater treatment plant, and the village of Lowville has been working on its Five Streets project for almost a year. The $18.9 million project will provide upgrades to the water, sewer and storm water infrastructure along five main streets in the village: Park Avenue, Water Street, Shady Avenue, Trinity Avenue and Stowe Street. Lowville Mayor Joseph Beagle said the goal of the project in part was to replace old, clay tile sewer lines with new, larger ones to better accommodate wastewater and redirect storm runoff from entering into the sewer system.
"Our hope was that this should help some property owners who might have had flooding in their yards," he said.
There are more than 240,000 miles of roads in New York state connecting residents to their jobs, shopping, restaurants and vacations. According to the 2017 highway mileage report from the state Department of Transportation, Jefferson County has 2,473 miles of public roads, while Lewis County has 1,363 miles and St. Lawrence County has 1,363 miles.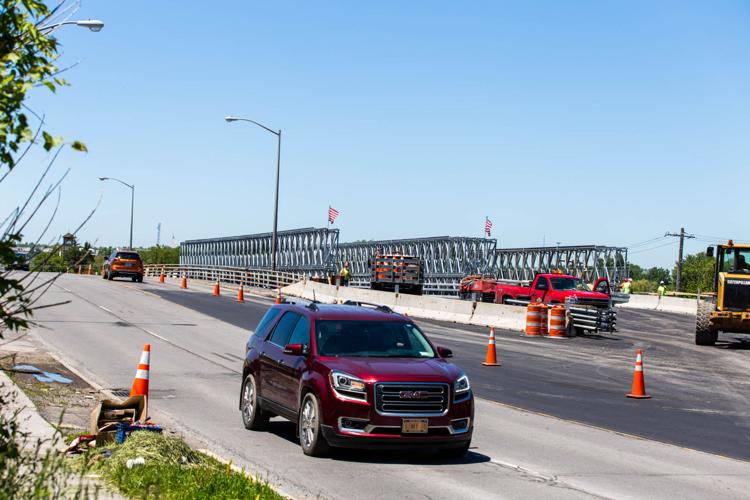 Steven G. Kokkoris, regional director for the state Department of Transportation, said preserving roads across the north country aids its tourism industry by allowing easy access to Lake Ontario, the St. Lawrence River and the Adirondacks. Poor roads and bridges with cracks, potholes, bumps and heaving can deter motorists.
"And if they don't shy away you're certainly going to hear about it. You hear when they travel in other states the complaints regarding the systems in those states," Mr. Kokkoris said. "So we strive to make sure that everything that we have here is safe and efficient for them to travel on."
Despite the increased use of roads across the state, about 80,000 miles of roads were considered poor or fair in 2015, according to the ASCE. The "rough roads and congestion issues" cost taxpayers an estimated $6.3 billion, as well as increased risk of fatality in rural areas, prompting a D- grade from the ASCE.
The state's 17,456 bridges hardly fared better under the scrutiny of the ASCE. About 100 bridges were closed as of 2015, and 2,012 of them were considered structurally deficient with the need for "consistent maintenance or improvements to safely," prompting a D+ grade. The group also reported that state-owned bridges tended to fare better than locally-owned ones.
Last year, St. Lawrence County officials learned that 70 of the county's 194 bridges are deficient and should be replaced within the next decade, and about 70 percent of county roads have subbase deficiencies. In December, Legislator Kevin D. Acres, R-Madrid, said the county would have to invest $10 million annually to maintain status quo, and called for aggressive lobbying for state and federal funds.
Workers from the town of Alexandria highway department began repairs for a decrepit and dangerous bridge on Bailey Settlement Road. The metal guard rails have rusted, and portions of the concrete have crumbled. The town had planned to repave a 2.2-mile-section of it from Route 26 to Fitchette Road.
The Watertown City Council received complaints this year of potholes on Palmer Street.
In the north country, conditions of county, town and village roads vary, but state workers typically maintain state highways "at a very high level," said Erik Backus, a professor with Clarkson University's engineering department. Roads like County Route 24, which runs through Edwards, Russell and Pierrepont in St. Lawrence County, and state Route 11, which runs across the state, are well maintained. The region, however, is home to many bridges that were built in the 1950s and 1960s that are in need of upkeep, Mr. Backus said.
"Generally speaking, we're not as good as in some areas of the state," like in Syracuse and the Capital region, Mr. Backus said. "There are areas that are in much worse conditions than us."
Frequent, preventative maintenance performed alongside extensive renovation, all backed by significant state investment, helps preserve state highways in the north country in good condition.
The DOT acts on a preservation asset-based management philosophy, or ensuring highways remain in good condition. Roads in worse condition may not receive the same attention from the department either because treating them may cost too much for the given year, or those roads may have less bearing on the local economy.
"I will tell you that one of our counties in particular, Clinton County, has typically ranked first or second in the state with respect to pavement conditions, and the other counties don't follow far behind," Mr. Kokkoris said. Staff working in its regional office in Watertown monitors, maintains, repairs and upgrades for about 4,000 miles of state highways, and 400 bridges. They oversee snow plowing, paving, sign repair, ditching to ensure proper water drainage from roads, culvert repairs, bridge painting and more. Mr. Kokkoris said the DOT also inspects all the bridges in the state.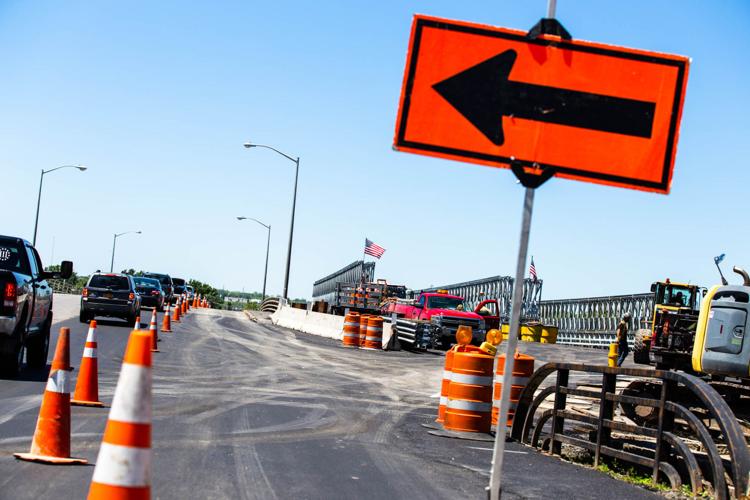 The department on average executes 30 to 40 construction projects and 20 resurfacing projects annually. One notable project the department conducted this year was the $8.3 million replacement Arsenal Street Bridge in Watertown. Mr. Kokkoris said the bridge reached the end of service life, which ranges between 50 to 75 years for bridges, and the new structure should reduce the extent of routine maintenance. Other major DOT projects included replacing the second half of the bridge over the CSX railroad on Route 11 in DeKalb Junction and reconstruction of portions of James and Webb streets and Riverside Drive in the village of Clayton's historic district.
"We've got a very robust way of reviewing the condition of our assets, and that includes bridges, highways, and large culverts, and it's a needs-based way of programming," Mr. Kokkoris said. "So we evaluate the condition of all the assets and those needing the most attention are put at the top of the list. And then we have to balance our funding as well, whereas we may not have funding to tackle everything. We try to make the most of the funding that we have."
Limitations in available funding, particularly in the Consolidated Local Street and Highway Improvement Program that municipalities rely on for financing road improvement, can inhibit necessary upkeep and fixes to local roads, Mr. Backus said. Funding for the program overall has remained relatively flat with "mild increases," and "slight reductions," depending on the year.
Obtaining CHIP funding also requires extensive inventory upkeep, and thus time from highway superintendents, and data the state requires can be difficult for some rural communities to transfer electronically. Municipal leaders are often encouraged to seek funding through CHIPS before bonding, Mr. Backus said, and while raising taxes could help fund road and bridge improvements, "obviously, it's not very popular."
"Like many nonurban areas, we are probably not as effectively resourced as we should be," Mr. Backus said.
Funding and manpower hurdles have not stopped counties, towns and villages from maintaining roads and bridges. Both the village and town of Potsdam have repaved several streets, including the seriously deteriorated Grant Street in the village. Mr. Beagle said the village has established a program where officials select portions of streets to repair each year.
"The big thing is we want industry to stay in our area and have a decent community," he said.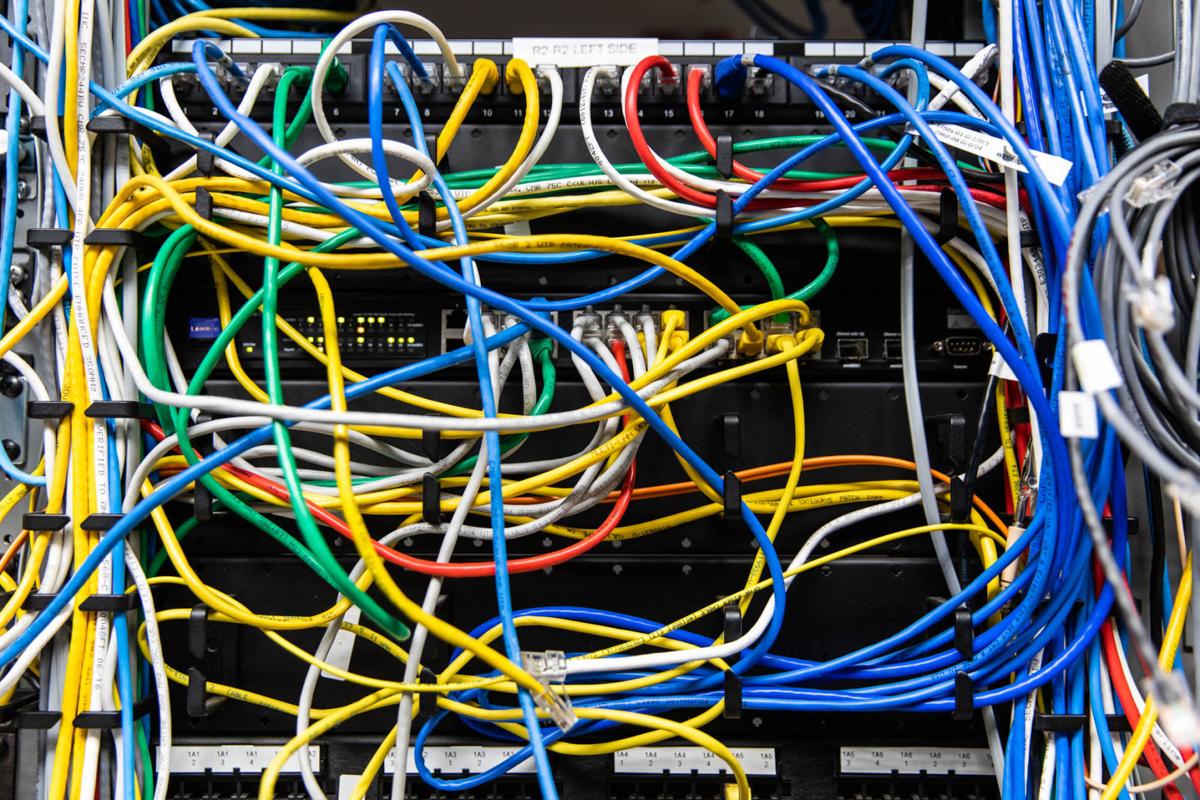 Internet, initially considered a novelty, is a necessity for gathering information. It is a crucial tool for educational development and decision making. In order to help provide this essential service, the public and private sector has leveraged millions of dollars to bolster broadband infrastructure across the state and north country.
The development authority has served as a key proponent of internet expansion in the north country since the early 2000s. The organization manages 2,000 cables of fiberoptic line and 30 equipment locations across northern New York, Syracuse and even Albany that allows internet service providers to connect customers with their service, said David Wolf, telecommunications division manager. Its infrastructure also services two telemedicine networks that provide internet to 105 health care providers, as well as 70 schools, a clientele that was a primary driver for DANC's initial internet expansion.
Growth in the authority's offerings, in partnership with internet service providers, has also provided rural communities that lacked sufficient interest service, or any service at all, to access high-speed broadband internet, Mr. Wolf said. For example, the authority helped Slic Network Solutions connect customers in Cranberry Lake, Schroon Lake and Keene Valley.
"We just upgraded our core network to four terabytes per second or four terabits per second, so 4,100 gigabit per second waves is what we now have running all through the north country," Mr. Wolf said.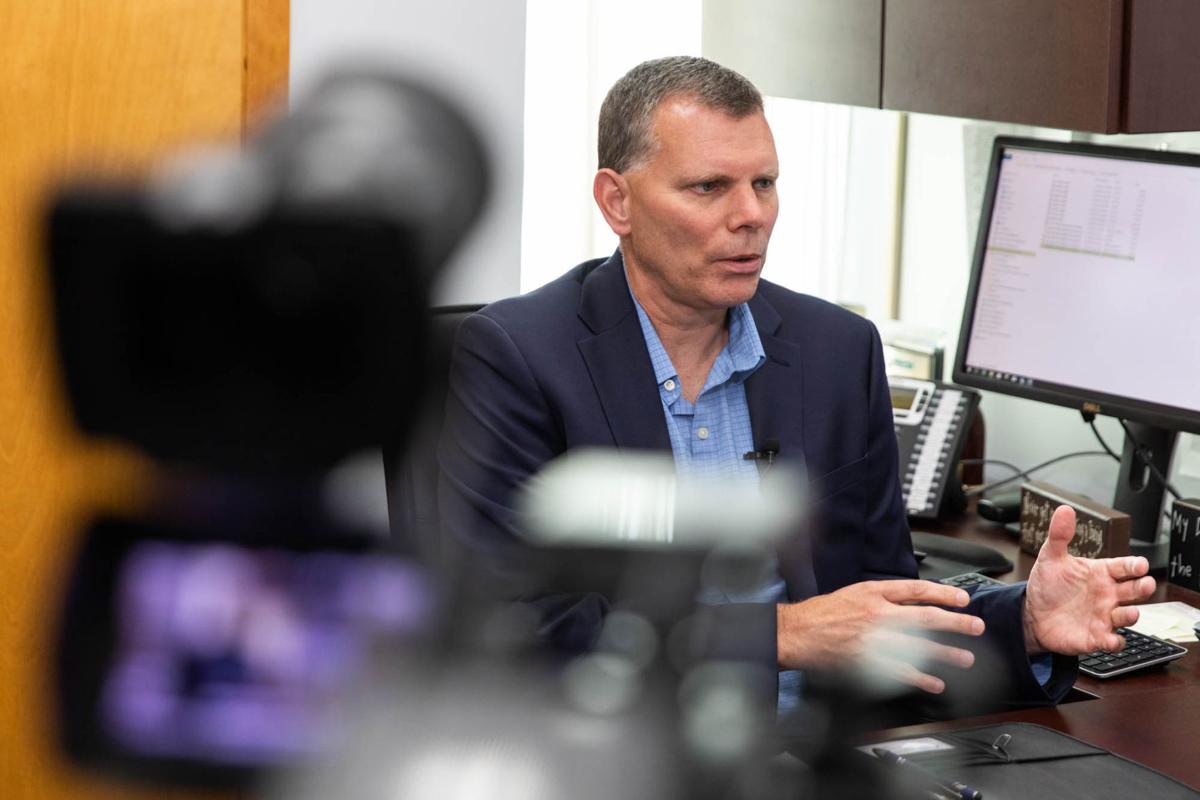 Paul Barton, president of Westelcom, said the region itself has exhibited significant improvements in its internet infrastructure over the past several years. His company, which provides internet connectivity to business and other providers, installed dial-up internet for customers in the 1990s, but since then, many areas now have access to broadband providing 100 megabyte to gigabit speeds.
"In terms of the north country quality of service and redundancy (backup connections), I think we're way ahead of many parts of the rest of the country," he said. "I have traveled to Florida quite a bit in the last few years. I was asked to help out down in the Tampa area with some efforts to increase broadband down there. And where we are here, we're way ahead of where they are in Florida."
Westelcom has also bolstered its own services over the years, with its recent advancement directed toward cloud connectivity.
"We've secured our own fiber connectivity into Montreal, and the Quebec Internet Exchange where we have direct access into Microsoft, Amazon, and Google. So that our customers that are on our network can access content directly," Mr. Barton said.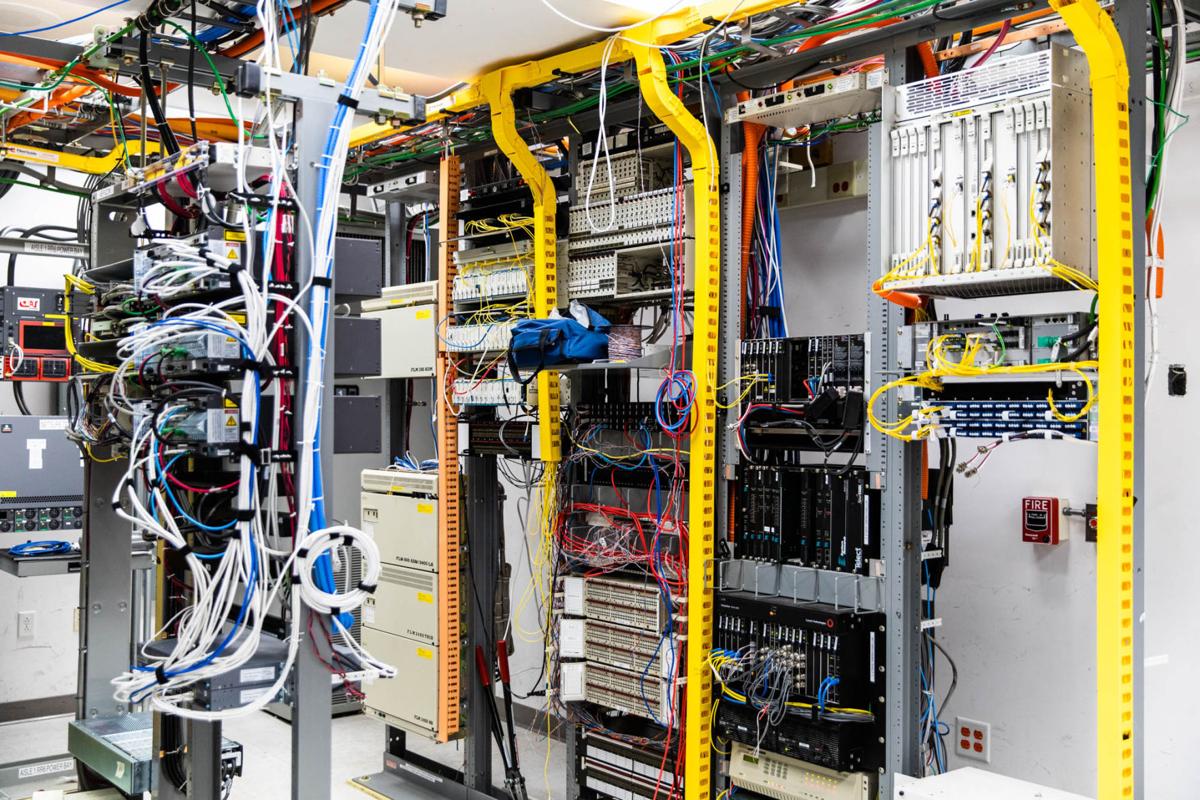 With the rising integration of high-speed internet in people's daily lives, the state and federal governments have leveraged hundreds of millions of dollars to expand broadband internet infrastructure to meet today's demands.
In order to ensure as many New Yorkers as possible have access to high-speed internet, Gov. Andrew M. Cuomo launched the $500 million New NY Broadband program in 2015. The governor planned to finance internet providers' expansion to almost 2.5 million properties in unserved or underserved areas that will receive internet speeds ranging from 25 to 100 megabits. That includes more than 18,000 properties in Jefferson, Lewis and St. Lawrence counties.
One of the benefactors of the program has been the town of Brasher. Supervisor Mark Petes said the funding from the state helped Slic provide service to residents in the town who never had internet, as well as others who relied on DSL internet. The new service has allowed businesses to improve their efficiency, and better supports digital entertainment for residents.
"Broadband brings a lot of opportunities," Mr. Petes said.
The parent company for Spectrum, Charter Communications, has also installed connections to unserved and underserved residents across upstate New York as part of a requirement for the state previously approving its merger with Time Warner Cable. The company is expected to buildout its network to 145,000 unserved or underserved properties by 2021.
The Federal Communications Commission recently granted two approvals for $55.4 million to deploy fiber-based broadband access to 23,470 previously announced unserved properties in upstate New York through its Connect America Fund. The $55.4 million allocation derives from an overall $170 million the commission reserved for broadband internet service expansion in upstate New York.
Even with notable investments from private and public entities, the internet expansion across Northern New York faces hurdles.
Mr. Wolf said the providers face the greatest challenge, both in cost and resource, connecting users in the outskirts of rural towns, particularly along roads with five or six homes per mile. Providing high-speed internet to some of these towns, particularly areas in the Tug Hill and Adirondacks, can be costly for companies without yielding a sufficient return on investment, Mr. Barton said. Mohawk Network Systems abandoned its network expansion efforts in Lewis County and other areas due to the financial burden.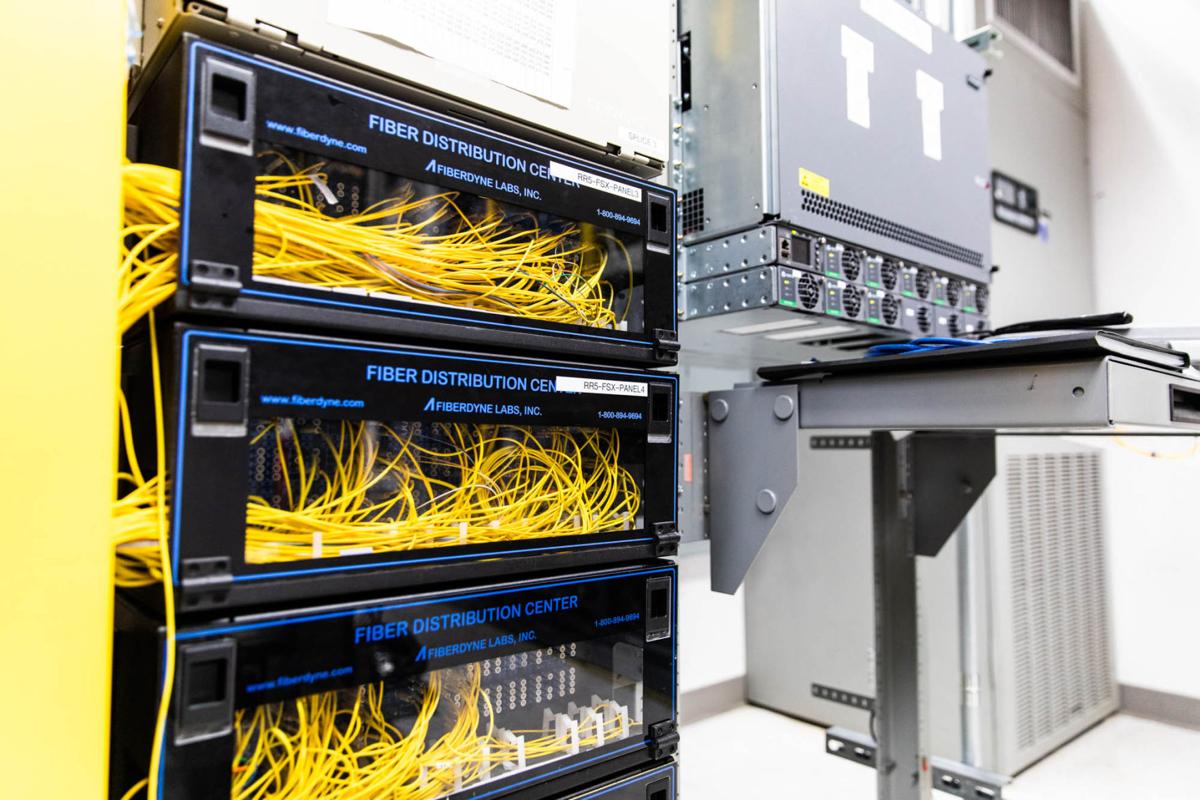 "The costs of running fiber today, via the air, is roughly $30,000 a mile. So between government grants and matches, to run, let's say, two miles to a customer, it's $60,000 to $90,000, if it's a two to three mile build. And if the customer is paying $60 a month for their internet, the return on that is out many, many years," Mr. Barton said. "There's no business return on the money."
People will always need water to drink, toilets to flush, roads to drive on and internet connections to access. No matter how taxing maintaining, repairing and upgrading infrastructure can be on communities' finances and labor, particularly when it is years beyond its service life, they will persist to maintain their essential services.
When dealing with infrastructure, particularly roads and bridges, Mr. Backus said he recommends that municipalities focus investments toward upgrades that make it easier to repair and expand assets in the long run. While up-front costs may be higher, he said overall maintenance expenses should be reduced. The professor also said he recommends municipalities decommission roads they cannot afford to maintain that draw little traffic.
Increasing funds for road and bridge improvements might require more toll roads and bridges, especially since hiking local taxes garners little favor from constituents, Mr. Backus said.
Hundreds more people across the region will receive new and improved internet services as providers, with help from state and federal funds, continue building out their networks. Mr. Wolf said USDA rural development offers grants for broadband internet expansion, which could help even more residents secure high-speed internet.
Mr. Barton said he also sees the region's capability of expanding cloud connectivity,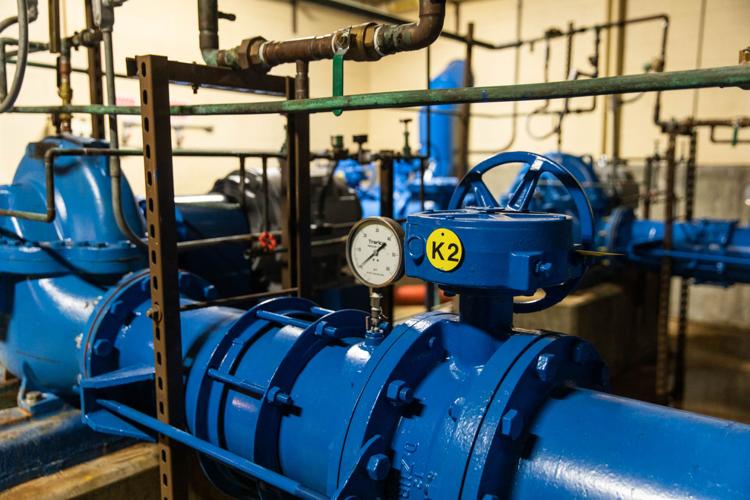 As for the people in Orleans with salt-contaminated wells who have waited years for clean water to drink, cook and bathe in, many have now been connected to the town's new water line on Route 12. The town's engineer, Robert J. Campany of St. Lawrence Engineering DPC, said 90 percent of the main has been installed along with 50 percent of the laterals to homes and businesses. The project will wrap up and all 500 property owners will be serviced next year.
Mr. Greene's and Mrs. Weiss's house was connected to the water line in June. They celebrated with neighbors. Their children learned after 14 years what drinking their own water was like, Mrs. Weiss's jewelry no longer withered from corrosive water, residue no longer sticks to their glasses. Mr. Greene also said he knows when they buy appliances, they will finally last several years, maybe 20. Both said they believe the new water line will help attract development and bolster their community. "The kids have never gotten water (from the faucet) in their whole lives. It's a brand-new experience for them," Mrs. Weiss said. "We'll get a whisk, which is exciting."